In this special feature, based on a survey of more than 1,000 industry professionals for its Employer of Choice Report, Real Estate Business reveals the strengths and weaknesses of each national residential real estate group, why agents are attracted to the independent sector and what it takes to create a top office
It's often a subject of heated debate: which franchise group has the happiest principals, agents and property managers? The Employer of Choice Report has finally revealed the answer.
The national survey has also revealed what industry professionals look for in a business, why they joined their current organisation... and why they may be looking to jump ship.
In this special report, Real Estate Business spoke to a range of high-profile industry figures from across Australia, including agents from the Top 100 Agents ranking, principals, property managers, and recruitment and coaching executives. They broke down the business of real estate and explained what franchise offices and independent agencies need to get right if they want to dominate their local market.
But first, the result everyone has been waiting for: which franchise group has the happiest principals, agents, property managers and other staff?
The answer, according to the Employer of Choice Report, is First National Real Estate (see below). First National scored 4.57 out of 5.00, followed by LJ Hooker on 4.50 and Belle Property on 4.44. Only groups with offices across four or more states were eligible for inclusion in this ranking.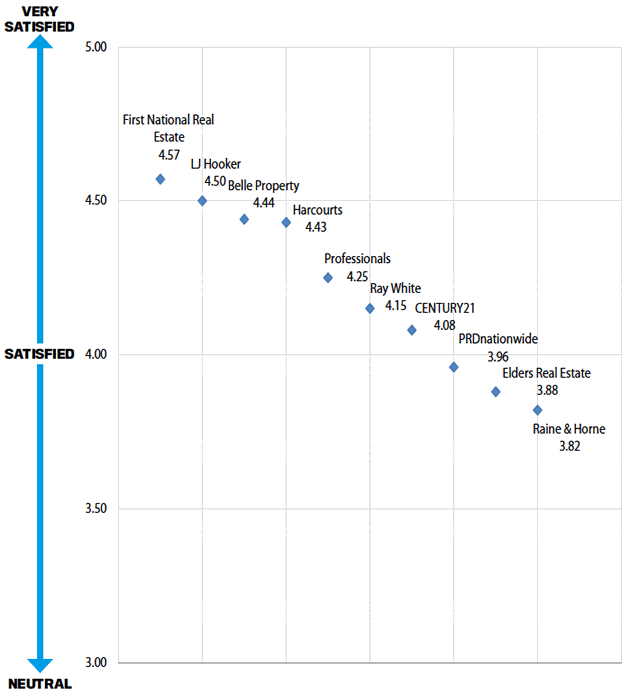 For a complete breakdown of how each of the top 10 rated groups were rated across 11 key business and human support categories - or to find out which groups were rated highest by state (NSW, Victoria, Queensland, Western Australia or South Australia) - you'll need to purchase the full Employer of Choice report. Available now as a downloadable PDF document for $499.
BUY REPORT
The big picture
What do industry professionals value in a real estate business? Company culture, agency reputation and business support rate very highly, according to the survey.
Our panel of industry experts also kept coming back to these themes and stressed how connected they all are. An office that operates harmoniously and efficiently is likely to build a positive reputation – but it can be difficult to establish that sort of effective culture in the first place without outside support.
The key lesson for both franchise and independent offices is that creating a successful real estate business requires far more than just the ability to list and sell, as Real Estate Business explains…
Culture is king
How do you know if your office has a good culture? One sign is when staff make a point of not leaving an empty kettle for the next person, says Toop&Toop's head of property management, Suzannah Toop.
It turns out that people really mean it when they talk about the importance of culture. According to the Employer of Choice Report, 65.4 per cent of respondents identified culture as their main motivation for joining their current network or company (see below).
The survey also revealed that culture is valued throughout the real estate industry, with principals (61.2 per cent), agents (63.3 per cent) and property managers (77.3 per cent) all citing it as their main reason for joining their current organisation.
The value industry professionals place on culture can be seen in the lesser value they placed on other possible reasons for joining their business. The survey found that 48.9 per cent of respondents nominated brand as a reason they were attracted to their company, while 38.0 per cent nominated training and education, 35.8 per cent nominated the size of the network/company and 30.4 per cent nominated head office support.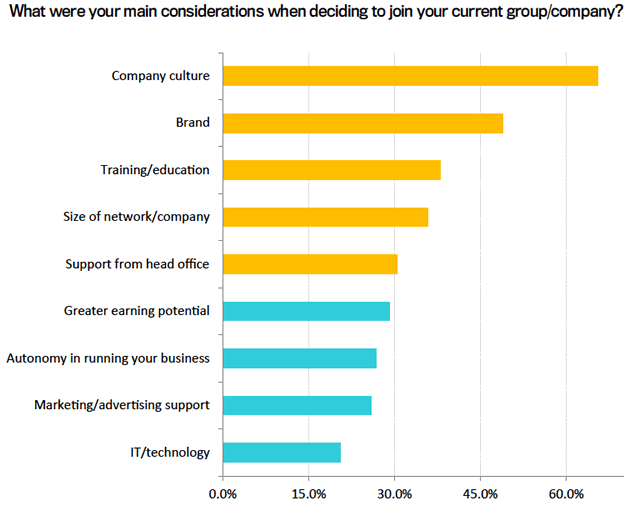 Ms Toop says an office with a good culture is one in which people respect each other and enjoy coming to work. Culture is something that her Adelaide firm takes so seriously that either she or Genevieve Toop, the general manager of sales and marketing, will sit in on every recruitment interview.
"We set the culture and we want to make sure we're hiring by character first. We're of the belief that we can train different skills. About 60-70 per cent of our property management team have come from different backgrounds because we want to hire for culture first, which means looking to character," Ms Toop says.
Gough Recruitment director Justine Buhrmann says 95 per cent of candidates who interview at the recruitment firm rate culture as a very important factor.
"The best candidates in the market value a culture highly, so if you want to attract them, you need to work on this. It also keeps current staff loyal to a business when markets are tough, or they are having a tough month or day," she says.
"Candidates are spoilt for choice nowadays – there are so many jobs out there – so they are fussier about factors like this."
Culture also plays an important role in retaining talent, according to Laura Levisohn, director of Perth business M Residential.
Ms Levisohn says high turnover is common in the real estate industry, especially for property management. She says poor culture drives many staff out the door.
"They have no support from their team or management and no matter what you pay that employee, they will continue to leave their employment until they find themselves settled into a supportive team culture that allows them to grow within the company," she says.
"Offering some flexibility to staff is now being seen as an important characteristic of a good culture [as is] providing opportunities within their career to progress. At M Residential, our motto is to train our staff well enough that they are good enough to leave, but treat them well enough that they never want to."
It's all very well to recognise the importance of a good company culture, but how do you go about creating it?
Real Estate Dynamics director Paul Brooks says businesses need to identify their core values and objectives – and then commit them to paper.
"Expectations should be clear for performance and non-performance of the cultural values established. The staff are inducted into the culture from day one and allowed to grow within the business with a career path," he says.
Cunninghams managing director John Cunningham makes another important point: only hire people who share those values.
Recruiting a high-performing agent who wants to play by his own set of rules will probably do more harm than good, he warns.
"They can come into an organisation that has good culture and absolutely destroy it because it's all about them and their egos are out of control."
For the factors real estate professionals valued the highest when they made their decision to work for their current firm, broken down by state, job title, agency type and/or dollar value of properties sold, you'll need to purchase the full Employer of Choice report. Available now as a downloadable PDF document for $499.
BUY REPORT
"What people say behind your back is your reputation"
A good reputation is more than just a fuzzy feeling, says Gary Peer associate Adam Joske, who placed 55th on last year's Top 100 Agents ranking. It also means more sales.
"If a company has a got a good reputation, it gives you credibility when you're pitching for business, which is what real estate is all about," he says.
"When it comes to sellers, it means showing the seller that you're doing everything possible to get the best price and they're not just a number."
Reputation is also a valuable recruiting tool. According to the Employer of Choice Report, 77.4 per cent of respondents said reputation would be a very important factor in their decision to join a new group or office (see below). Reputation placed ahead of culture on 72.0 per cent, quality of leadership on 70.7 per cent, brand recognition on 63.4 per cent and communication on 62.8 per cent.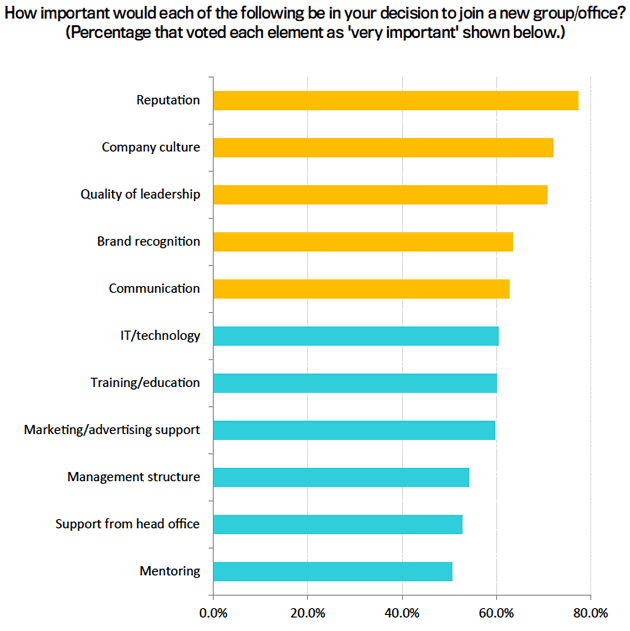 Cunninghams managing director John Cunningham says the reason agents value reputation so highly is because they want to belong to something bigger.
An agency knows it has established a good reputation when it generates a positive buzz in the community, Mr Cunningham says.
"What people are saying about you behind your back is your reputation. Bad news travels much faster than good news."
Scott Swingler, a Top 100 agent with Perth agency Space Real Estate, says he appreciates being part of a well-regarded business, having suffered the opposite fate earlier in his career.
"I've worked with people who are shifty and I've been worried that it will rub off on me," he says.
"In an industry that has had problems with trust in the past, if you're with a firm that's known for being ethical and getting results, then it can't hurt."
Mr Swingler says establishing a good reputation doesn't just mean being ethical – it also means working hard.
"We earn a lot of money in this industry and people are happy to pay that money if they see you're working hard and doing everything possible to maximise their result. But I feel people can resent the money you earn if they think the money is coming too easily," he says.
Suzannah Toop from Toop&Toop says reputation and culture go hand in hand. A good reputation takes years to build, but once it's been earned it makes the phones ring and gets people to walk through the door, she says.
How staff respond next is crucial to maintaining that good reputation, Ms Toop adds.
"You've got to make sure that when people go out they embody everything your business is about, because as soon as they meet the person, that's when they're going to decide whether the reputation is true or not."
LJ Hooker Nerang principal Shane Colquhoun also emphasises the link between reputation and culture.
"Reputable agents don't work for non-compliant companies," he says.
"Word gets around very quickly between agents, especially if there are issues within that business. An office with a good culture won't allow staff spreading 'stories' about where they are working."
Going independent
Many principals, agents and property managers have concluded that if they're no longer going to be part of their current franchise, they'd rather not be part of any franchise.
More than 60 per cent of survey respondents said they'd join an independent if they decided to leave their current franchise group – 40.1 per cent said they'd start an independent office and 20.2 per cent said they'd join an existing independent (see below).
For those agents who would prefer to switch from one franchise to another, the most popular choice of destination was McGrath Estate Agents on 17.2 per cent, followed by Ray White on 12.3 per cent, Belle Property on 11.3 per cent, Harcourts on 8.8 per cent and LJ Hooker on 8.4 per cent.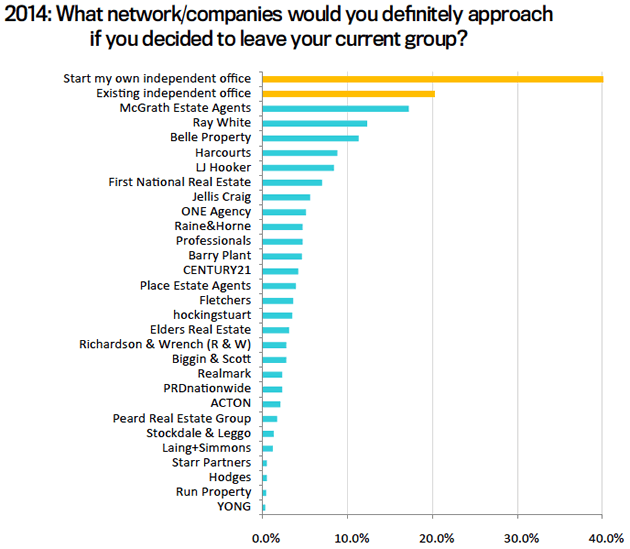 Many franchises have a good reputation for the support they provide their principals and agents. But M Residential director Laura Levisohn says one reason people may feel drawn to an independent agency is because of the belief it will offer them more flexible and personalised support.
"An independent agency is also perceived in the marketplace as being more boutique and as such, more professional," Ms Levisohn says.
"The way an individual can promote and market themselves will also have more flexibility, whereas a franchise or group will have restrictions as to what can be done in the form of marketing and affecting their brand."
Cunninghams managing director John Cunningham once belonged to a franchise group, but left because he didn't feel he was getting enough support.
He feels as though he's now part of a more nimble and dynamic sector.
"People I know who have left franchises recently say it's because of the slowness it takes to get things happening and the fact you may not have any say in those strategies," he says.
"The powerful independents now are starting to break new ground a lot more quickly and are far more adaptable to change."
Mr Cunningham's point is echoed by Scott Swingler from Space Real Estate, who has also had experience with both the independent and franchise sectors.
Earlier in his career, Mr Swingler joined a franchise by default after his independent office was acquired by a branded group. It wasn't a happy experience.
"There were guys I felt making all these top-down, inflexible decisions that affected me and my business, and I felt I had better ideas than them. Whereas a small boutique company like Space – we all make the decisions together, we all bring ideas to the table," he says.
"A lot of franchise companies offer a lot of structure and training and discipline, which is all good and well, but you attract people who probably need it."
However, it would be wrong to imply that agents and principals who belong to a franchise are generally dissatisfied or feel unsupported. On the contrary, the Employer of Choice Report reveals many are happy with their group and much of what it provides.
The perfect example is Shane Colquhoun, the principal of LJ Hooker Nerang, which placed 41st on this year's Top 50 Sales Offices ranking. He can't see the attraction of crossing to the independent sector. "It won't happen for me. There is strength in numbers and it's more cost-productive to be within a franchise," he says.
Real Estate Dynamics director Paul Brooks makes an important point: just because a principal or agent becomes disenchanted with the franchise sector, it shouldn't be assumed their head office was at fault. Mr Brooks says some people unfairly blame their franchise when they fail, when actually their own underperformance is to blame.
The Employer of Choice Report also found that independents recognise that their sector has weaknesses as well as strengths. According to the survey, 52.3 per cent of independent respondents said brand recognition was the area in which their organisation most needed to improve, followed by IT and technology on 35.9 per cent, and marketing and advertising support on 31.7 per cent.
Support
Franchise groups may not get everything right, but they're providing an impressive level of corporate and business support in some really important areas, according to the Employer of Choice Report.
Respondents gave their franchise an average score of 4.30 out of 5.00 when it came to the brand recognition support they provided (see below).
That was followed by 4.20 for training and education support, 4.10 for head office support, 4.03 for IT and technology support, and 4.00 for marketing and advertising support.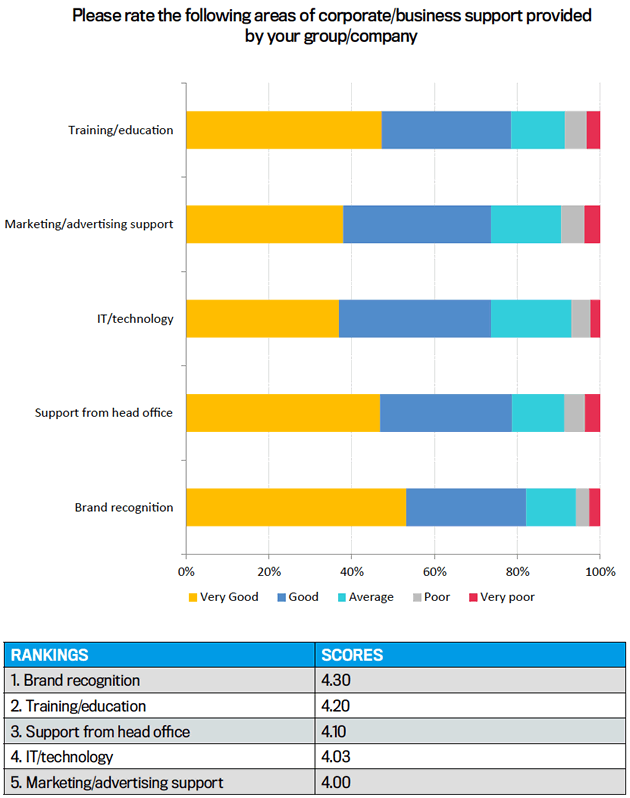 Although franchises scored some high marks for the corporate and business support they provide, they didn't perform as strongly when it came to human support.
The highest mark was only 3.59 out of 5.00, which was given for the support franchises provide with reputation (see below).
That was followed by company culture on 3.52, quality of leadership on 3.41, communication on 3.35, mentoring on 3.31 and management structure on 3.30.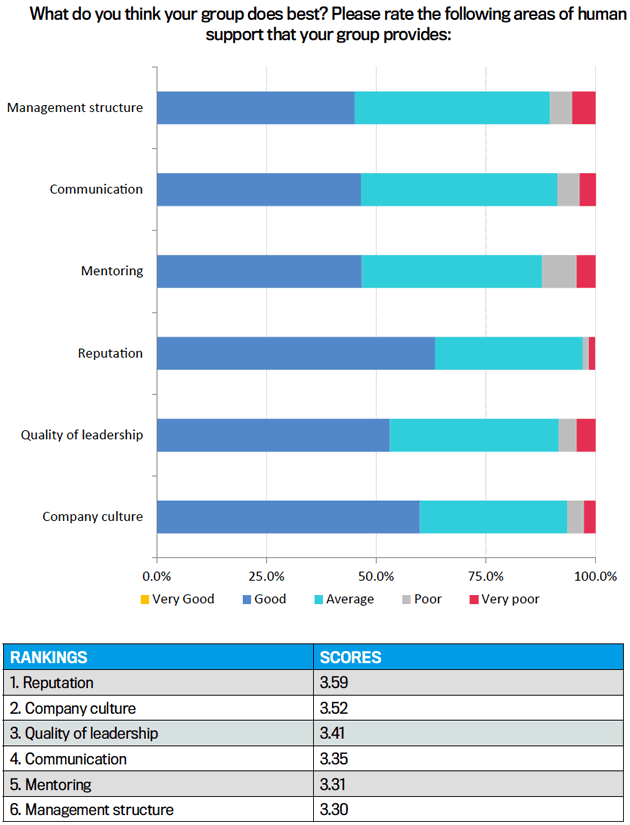 One thing the franchise and independent sectors have in common is the widespread belief that agencies need external support to succeed.
That can come in the form of group training, independent business coaching or industry conferences.
Cunninghams managing director John Cunningham says it has become increasingly hard for a principal to thrive without outside assistance.
"As the business becomes more sophisticated, you're starting to see a divide happening between the agents who are adopting change more rapidly and are seeking external advice and those who still think they can wing it," he says.
"The idea that you can do it all yourself is now long gone. We're in a much more sophisticated world. You need to have all the right advisers around you – from a financial point of view, a management point of view, a leadership point of view and a training and coaching point of view."
Shane Colquhoun from LJ Hooker Nerang is also convinced that principals need external help if they want to excel.
"Without a coach, mentor or franchise it is very difficult to 'know the way', so to speak. Too much time is spent on reinventing the wheel and looking for alternative ways rather than doing what needs to be done," he says.
Mr Colquhoun says LJ Hooker has recognised this with its 'admiral' program, in which the group's most successful franchise owners, or admirals, offer mentoring, assistance and support to their neighbouring businesses.
Real Estate Dynamics director Paul Brooks doesn't rule out the possibility that principals can succeed on their own, but he believes it's not a risk worth taking.
"It can be done of course, but it is a very long and lonely path if it is done by one person without support of a group or other third-party expertise such as a business coach," he says.
"From our experience, we see how our coaching clients respond to our rent roll and business coaching with outstanding results that they may never have achieved in the timeframe without it.
"As we all know, you get what you pay for, so for personalised coaching, principals will need to look beyond the franchise group to specialist coaches."
For a complete breakdown of how satisfied real estate professionals are across the industry - and the factors they deem most important when deciding to join a new real estate firm - broken down job title, agency type, state and value of property sold, you'll need to purchase the full Employer of Choice report. Available now as a downloadable PDF document for $499.
BUY REPORT
What makes a top office a top office?
One of the most interesting findings from the Employer of Choice Report was how each franchise group attracts agents for different reasons.
For example, the main reason agents joined First National was company culture, on 61.7 per cent. That was followed by brand on 53.1 per cent and head office support on 45.7 per cent (see below).
By contrast, the main reason agents joined LJ Hooker was brand on 84.5 per cent, followed by culture on 62.1 per cent, and training and education on 51.7 per cent.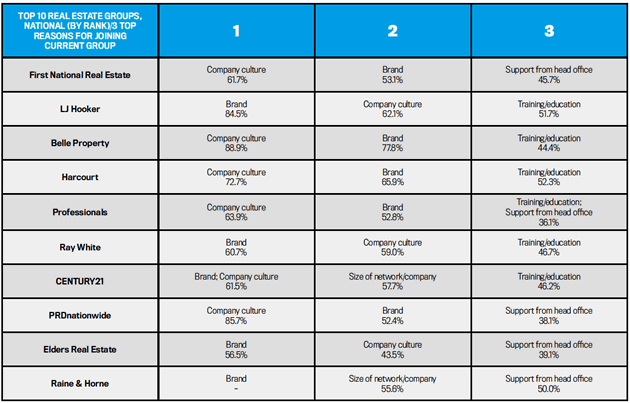 For every one of the 10 leading franchises identified by the Employer of Choice Report, brand was among the top three reasons agents decided to join that group.
Many independents envy the well-known name that their franchise rivals enjoy. According to the survey, the number one thing that respondents from independent agencies wanted their office to improve was brand recognition, on 52.3 per cent.
Having a recognisable brand is only one of the things that makes a top office a top office. Gary Peer associate Adam Joske believes that culture is the most important element. John Cunningham from Cunninghams agrees. "It's one of those things you can feel – it's very obvious," he says. "In our office, we call it a performance culture. Everyone is there to perform and everyone understands that – and that's the same from the receptionist right through to the top."
Gough Recruitment director Justine Buhrmann says while her candidates place a high value on culture, they believe that top offices also offer other important features, including positive reputation, low staff turnover, attractive working conditions and good pay.
Paul Brooks from Real Estate Dynamics says top offices will also provide regular training, and take a systemised approach to compliance and best practice. They also develop quality business plans, and then ensure those plans are regularly reviewed and updated. Top offices also create specific KPIs for each role – and then give staff strategies so they can meet their goals and hold one-on-one meetings to measure their progress.
M Residential director Laura Levisohn says a top office is one that provides clear structures for its staff and is therefore willing to employ someone who has no experience.
"If a company is willing to employ at this level then it will usually reflect that they have a training schedule in place, together with policies and procedures," she says.
"Providing this support will in return create a team culture and loyalty of staff. At M Residential, it is important for us to keep our team culture intact. We will always employ on attitude since we are confident we have the correct procedures in place to train and teach the role."
To learn more about which real estate companies are most active in the recruitment market - and the companies that real estate professionals are most eager to join - broken down by state, you'll need to purchase the full Employer of Choice report. Available now as a downloadable PDF document for $499.
BUY REPORT