Promoted by ListingLogic.
More and more savvy real estate professionals are turning to social media to uncover buyers and tenants for their listings, and for good reason. Here's one recent example...
A modest three-bedroom, two-bathroom home had reached "stale listing" status. The REA listing and a small Facebook "boost" campaign had uncovered no buyer. In fact, after 60 days on market, the agent had not been able to put an offer on the table for her vendor.
So, in an attempt to reach out to a potentially new audience, the agent turned to ListingLogic's social media marketing platform and booked a 14-day ad campaign on Facebook for $275. The results? 
15,753 potential buyers reached, 6,893 property video views and 424 clicks to view the property in more detail.  But wait, there's more…
On day four of the ListingLogic ad campaign, the agent received a phone call from a lady who was keen to inspect the property. She was taken through the property that day, put in an offer on the same day and then bought it. True story. Not a bad result for an investment of $275.
But this outcome really should be no surprise to anyone. With one in two Australians using Facebook every single day, it makes sense this agent was able to find her buyer through social channels.  After all, what is more social than finding a home?  
Social media and the advent of mobile devices have radically shifted the consumer's online habits. Just as desktop and Google search disrupted print media and enabled REA and Domain to flourish in the early 2000s, today we are seeing a similar transition to social, particularly Facebook. And it is changing the way we "do" real estate.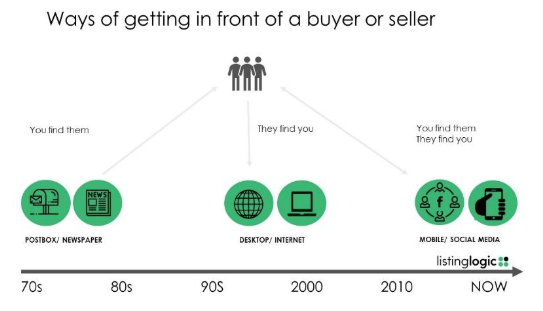 As in the earlier story, social media is where the most relevant eyeballs are. Even if your potential buyer is not looking yet, you can plant the seed, pique their interest and encourage them to move from a passive to an active buyer or seller.
A fresh property listing is one of the most compelling forms of content, and typically generates strong engagement in the land of social. Every interaction we have with Facebook captures information about us — our interests, where we live, our friends, how we feel, our recommendations. Facebook has the intelligence to know what we want, before we've even started looking for it. This data is what ListingLogic captures and packages back to the agent to set them up for future re-marketing. It is what gives them a point of difference. And it is what enables them to market a property better than their competitors.
It's time to ensure your property listings get the right mix of exposure on contemporary media. This means going beyond the portals to uncover potential buyers and sellers who are already spending large amounts of time on social media and on their mobile devices.
HARNESS THE POWER OF SOCIAL MEDIA
ListingLogic is a social media advertising platform, built specifically for real estate agents. We do the hard work for you so that you can focus on selling.
ListingLogic will help you:
Deliver cost-effective results for your vendors

Build visibility for you and your listings

Set yourself up for future re-marketing 

Save time with automation
Ask us about social media advertising solutions for your residential, rental and or commercial listings.