Promoted by Listing Loop
Off-market property sales cut to the chase as an efficient and cost-effective way to get straight to serious buyers and eliminate the time wasters. The right buyer will be quick to act before the property goes on the market and in many cases, they will pay above asking price. With current low stock levels, buyers are more committed than ever to securing their dream home.
When you win a new listing, there's often an expectation of what the final sale price will be. Then you work hard towards achieving that result. Off-market property sales call on your negotiation skills but not just for vendors. You develop a relationship with the buyer from the beginning, rather than interacting with them as strangers at an auction. 
The quickest and easiest way to identify buyers interested in your listing is when they're matched to the property via a marketplace like ListingLoop.com.au. These buyers have chosen to sign up to discover pre-market and off-market properties for sale. They nominate the suburb and the type of property they are looking to buy, making their property search more specific and individually targeted to them.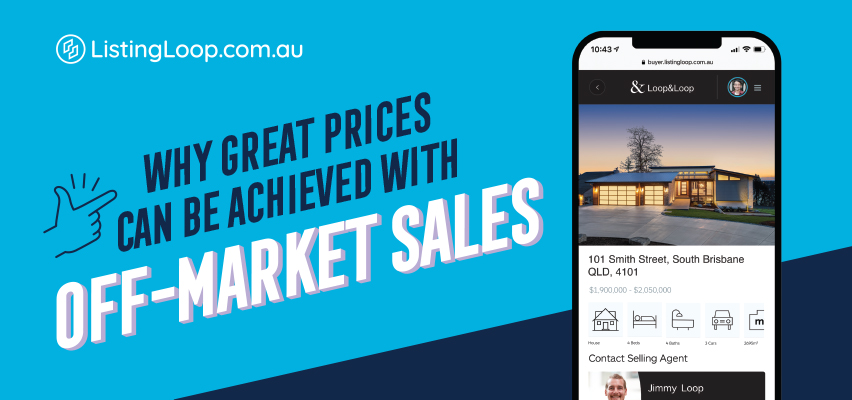 The ListingLoop.com.au Australia-wide buyer database is up-to-date and new buyers are signing up daily. Smart technology identifies the most suitable buyers in an instant and you no longer see your days eaten up with calling each contact one by one.
Buyers that keep missing out are getting more assertive with off-market offers. Driven by FOMO they know they can't be cautious in this market and are going in strong with offers that are often above the asking price.
Agents with excellent negotiation skills and an unrelenting commitment to getting the right price will never allow a property to undersell. With off-market property sales you often get more serious buyers and can still set off a bidding war to get the best price.
If you maximise off-market sales to your advantage everyone wins. You help a buyer find a home in an ultra-competitive market and form a relationship for future purchases. You get your vendor's home sold for a great price, save them money by avoiding expensive upfront advertising dollars and get the job done faster.
For more information visit https://listingloop.com.au/agents/