Modern clients expect immediate responses. Pioneer agencies using Artificial Intelligence to meet those demands are finding record high client engagement.
Place Estate Agents was established in 2002 with a clear vision: to be Brisbane's best residential real estate agency. Now using Propic Artificial Intelligence (AI) technologies, Place is ready to lead Brisbane buyers, sellers, renters and investors into the next generation of modern real estate too.
An average of 1,250 portal enquiries per week were automatically handled without any human intervention soon after introducing Propic AI conversation technologies to Place in 2022. Engagement quickly went to an all-time high, and 99.5% of all leasing enquiries are now handled automatically as well with higher accuracy and speed than previously possible.
Damian Hackett, CEO of Place Estate Agents credits the fast results and success of AI in the agency to the seamless and "unmatched" integration and onboarding of Propic technology into the business.

Damian Hackett is CEO of Place Estate Agents which has been at the forefront of residential real estate in Brisbane since 2002.

 
Modern clients expect immediate responses
Place Estate Agents understands the importance of client connection and keeping up with the ever-changing digital landscape of the real estate industry. With a desire to be at the forefront of innovation, Place started to investigate what tools would help them address the conflicting challenges of client expectations and the time constraints on its people. 
"We're facing the busiest time ever in our industry. Other industries are driving an expectation by consumers about their service providers being always on with an immediacy of response. People want someone to come back quickly and our industry has lagged a bit in that area. With Propic now, we can actually meet the demand without our agents having to be awake 24/7 to respond," says Damian Hackett.
Place wanted a digital solution to help nurture customers and its sales people, as well as support property managers and business development managers to do their work more effectively by removing repetitive tasks and freeing up time for more customer connection. 
Like any real estate agency, it also sought ways to "work smarter, not harder" on generating leads and its Head of Innovation, David Sparksman, reached out to Propic as an emerging leader in true machine-learning AI for the real estate industry in Australia. 
"We had some deliberate problems to solve, and a key one was around mining data from various systems to get leads, whether it was seller, buyer, tenant or owner," says David. Place also wanted an easy user interface that would provide real value and insights. The goal was to let team members spend more time in conversation with qualified buyers and sellers.
David Choi, Chief Commercial Officer for Propic recalls the customer-centric nature of the initial brief from Place, "They were looking for a business solution, not specific tech products. They were keen to remove repetitive tasks and free up time for more customer connection. They also sought ways to work smarter, not harder on generating leads so they could get more people in homes.
"It was a natural fit for our people-first intelligence approach to AI – and starting with our Enliven conversation AI solution was an obvious first step. They saw benefits within weeks and we've grown and deepened the innovation partnership since then to unlock market data insights through our Reveal AI solution too." 

David Choi is Chief Commercial Officer for Propic and works closely with Place Estate Agents to ensure business success with Propic AI solutions. 
To book a chat with David or #TeamPropic drop an email to 

This email address is being protected from spambots. You need JavaScript enabled to view it.

 
Place now uses Propic natural language AI conversations (Enliven) on its eplace.com.au website, and uses it to handle all sales and rental enquiries from the major real estate portals. 
It recently also implemented Propic Reveal AI for its residential sales team to generate only "warm to hot" new vendor leads and automate data-driven market appraisals on any property listing in Australia – not just those in the existing Place Estate Agents portfolio.
The path to AI success for Place 
The Propic team worked closely with Place Estate Agents with an initial pilot of hosting automated conversations for enquiries around 80 listings over six weeks. This was run in 'dark mode' allowing Propic to finesse its machine-learning technologies to ensure an absolute understanding of Place customers prior to going live, using the language, tone and style of its people to anticipate and resolve enquiries.
The use of Enliven AI enables Place Estate Agents to have an 'always-on' client experience. During one recent 72 hour period, it received 434 inquiries with 636 conversations held. Place discovered that more than 79% of its customer inquiries were held out of business hours thanks to the data-driven insights behind Propic's AI technology.
---
Propic discovered more than 79% of Place Estate Agents' customer enquiries came in via its website or the major portals after business hours. AI now handles 100% of them with accuracy, speed and high customer engagement.
---
Cathie Crampton, award-winning Director of Property Management at Place Estate Agents says, "Before Propic, we would be very manual in our connection with clients. It was phone based or email, and it was during work hours typically. With Propic we now have an always on client experience. Propic enables us to communicate with the client in their preferred channel at their preferred time." 
In the first four weeks of Place Estate Agents going live in 2022, Propic AI handled over 5,000 portal enquiries. Engagement during those inquiries was at an all-time high, averaging 26 conversations per enquiry. The 'dark mode' trial showed over 98% accuracy on machine learning - at least 6% greater than a human level of understanding. Propic's conversational AI automates 99.5% of leasing enquiries, providing not only nurture and growth in landlord and investor relationships, but also enables rich targeted and relevant conversations with potential clients.
---
Propic automates 99.5% of leasing enquiries for Place Estate Agents.
---
"Our purpose is to help people find their happy place. And the great thing about our partnership with Propic is it empowers our sales people, our property managers, our BDMs, to do that in a more timely and effective way," concludes Damian Hackett, CEO, Place Estate Agents. 
Want to learn more about how AI is used by Place Estate Agents as well as Leah Jay Real Estate, Turner and DiJones to grow their businesses? Watch the REB Live "The Future is Now" webcast available now.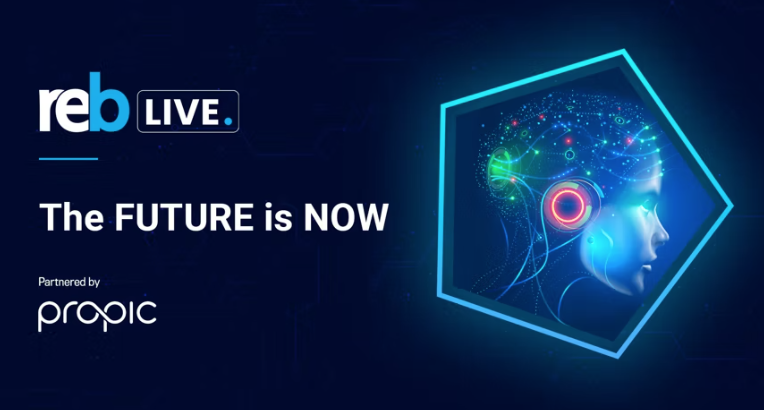 Get in touch anytime with #TeamPropic via This email address is being protected from spambots. You need JavaScript enabled to view it.
Book a demo to find out how you can get Propic working to grow your business and keep customer conversations alive 24/7