Communication is the key of any property manager's job but if done poorly, it can have a negative impact on client relationships, writes Amy Sanderson.
You're out of free articles for this month
To continue reading the rest of this article, please log in.
Create free account to get unlimited news articles and more!
Blogger: Amy Sanderson, Network Performance Manager, LJ Hooker
Have you ever greeted someone in a "ho hum" manner or had someone get really upset with an email you have sent them? Dr. Albert Mehrabian, professor emeritus at UCLA has conducted many studies and come up with some interesting results when it comes to communication:
Seven per cent of spoken communication is comprehended from the words that are actually spoken.
38 per cent is comprehended in the way in which the words are spoken (tone of voice).
55 per cent is comprehended from one's facial expressions and body language.
And to think, we often try to negotiate deals or resolve conflict over the email...not going to happen, or we probably aren't going to get the results we want.
I am still a strong believer in email communication, it is cheap, quick and a soft copy paper trail, however, there are certain times where it is far more effective to pick up the phone or even better, arrange a face to face meeting with someone in order to maximise the results we are after.
What does the tone of your voice say?
Is it...
Apathetic?
Uninterested?
Bored?
Indifferent?
Annoyed?
Terse and impatient?
or is it...
Enthusiastic?
Helpful?
Courteous?
Caring?
Excited?
Patient and understanding?
The difference is huge and can have an incredible impact on your client relationships.
Pitch – does your vary the pitch of their voice or do they speak in a dull monotone voice?
Volume – do you speak loud and clearly to the caller indicating confidence and commitment to the customer? Or are they soft spoken and uncertain of what they are saying, leaving a customer unsure of their willingness and/or ability to help?
Emphasis – Are certain words emphasised during the conversation to convey meaning and importance to the caller? Again be alert for a dull, monotone voice that will leave your will leave your customers feeling dull and dreary about your organisation.
Enthusiasm – You either have it or you don't. "Faking it" isn't a viable long term option.
Someone once suggested to me that while prospecting for new business (over the phone) that I place a mirror in front of me, not for vanity's sake (lol) but to remind me to SMILE while I was on the phone, helping me to overcome the fact that I was trying to forge new relationships without that vital ingredient – body language; you can hear a smile on the phone!
About Amy Sanderson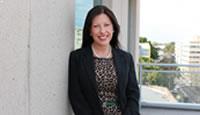 With 20 years' experience within the real estate industry across sales, property investment management, team performance, training and consulting all over Australia and New Zealand, Amy Sanderson knows how real estate agents think and feel. As Network Performance Manager - Property Investment Management for LJ Hooker, Amy is responsible for the leadership of systems development and up skilling of LJ Hooker's property management operations across over 650 offices in Australia and New Zealand.