Taking a moment to reflect on the last two days here on the Gold Coast, being at Australia's largest real estate agent conference, AREC14, I wanted to summarise and share with you my takeaways from some of the speakers.

You're out of free articles for this month
To continue reading the rest of this article, please log in.
Create free account to get unlimited news articles and more!
Blogger: Vasili Hadzellis, managing director, Core PM Consulting

Now property managers, I know what you could be thinking…AREC is only for sales agents!
Not true!
It is a conference that yes, features quite a few sales agents sharing their tips, stories and ideas, but the process of selling a property, really is no different to the process of leasing and listing a new management! You have to have the right mindset, plan and tools to demonstrate value and provide and amazing experience to your landlord clients, so have a read of the below and tell me what you think!
Tom Panos, as the MC for the two days, framed it well for the delegates as he opened by saying, "Sit here in a position of curiosity, not judgement", and "Live in imagination not memory".
Chip Eichelberger, from the US kicked things off on Sunday morning and certainly got us all in the AREC mood with his energising and entertaining delivery. His theme, 'Get Switched On', had you really thinking about the issues that are holding you back from being the best version of you!
Good is the enemy of great
Put yourself first – help yourself before you can help others
Confront the brutal facts – what are some of things that are holding you back?
Write down your vision and game plan – then display it and track it!
You can't control what the market is doing but you can control what you are doing!
Motion creates emotion. Emotion creates energy. Energy creates activity.
Work out what is your 'why?' Why should a client choose you to lease and manage their investment property?
Stand out from your competition, leave no doubt that you are the agent of choice with your clients!
Tom Panos interviews Michael Pallier, one of Double Bay's (Sydney) million-dollar sales agents. He talks about how he connects with new clients and managing relationships and does it by just being real.
Run a process driven business not an energy driven business
It's not who you know, it's who knows you
Feedback is the breakfast of champions – don't be afraid to give it to your colleagues and clients
John McGrath didn't disappoint with his session on how to maintain balance and focus and his strategies that will massively change your listing outcomes
Experience and results has to be greater than the clients' expectations = raving fans
Be a human being first, then a real estate agent
Give a damn, have a process for the client to understand how you are going to achieve the outcomes and deliver it with passion
Whatever you are thinking, think bigger!
Prepare to win!
It's all about video!
Jordan Belfort, the Wolf of Wallstreet himself, features for the two days and talks about the art of prospecting
Minimise on the loss of business, maximise on the lessons learnt – do you find out why you didn't win the management?
Tonality and body language = ability to persuade – are you practicing with your team on daily/weekly basis how you deliver your communication?
Be sharp as a tac, enthusiastic and be an expert in your field
Dr Fred Grosse, one of my mentors for a long time spoke. In his sincere tone he delivered talks about living the life you were meant to live and to design a life on purpose. A lot of what Dr Fred put forward activates personal reflection, so you kinda had to be there but I'll say, to get more from Dr Fred and the valuable lessons he teaches, a must read is his book Black Belt of the Mind.
On top of some of the great speakers, AREC always allows me to catch up with long-term industry friends and colleagues and on the whole I had a great two days! PS. I can definitely recommend the QT Hotel on the Gold Coast! A very funky/modern hotel!
Also at AREC, the ARPM14 program was released and I have to say, the countdown is on! August 3 and 4, Hilton Sydney! Some phenomenal people take to the stage and share their stories and ideas around all things property management! Can't wait!
See you at ARPM14 and AREC15!
Take care,
Vas
---
About Vasili Hadzellis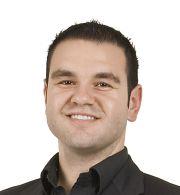 Vasili is committed to lifting the benchmark in superior property management services with in the real estate industry.
With close to 14 years' experience, Vasili is armed with unlimited energy and enthusiasm. Vasili has successfully implemented new processes and procedures, systems and technology platforms enabling real estate and property management businesses to establish an impressive market share.
One of his keys strengths within the property management area is winning new business, business development strategies and building organic rent rolls from scratch. One of his more notable achievements is building a rent roll from zero to 1,000 in four years for one of Sydney's top real estate agencies.
With this passion, an infectious energy comes from Vasili, which is truly motivating and inspiring. He also prides himself on facilitating excellence and helping others achieve their dreams, goals and ambitions.
.