The rental market at the moment is very tight, with demand for quality homes at an all-time high. With over $1 billion in residential property under management, we can pick trends quickly and we have found that an increasing number of tenants are choosing to renew their leases rather than braving the market... for fear they will 'miss out'.
You're out of free articles for this month
To continue reading the rest of this article, please log in.
Create free account to get unlimited news articles and more!
With utility bills rising and short supply of quality property driving rents, tenants are actively avoiding the additional costs and risks associated with moving house. Removalist expenses and limited rental options combined with the potential to be caught paying double rent to secure a new property before vacating the current property, is a factor. Not to mention, having to come up with bond money at the new property... it can all get too hard. 
These factors are affecting tenants' decisions to renew leases rather than pursuing a change of scenery, and are a hot topic at the moment in our offices. 
Seasonally we would expect to see a wave of properties coming onto the market during this time of year – it's what we brace for. To date, that wave of moves has not eventuated this year.
Comparing the statistics to this time last year, spring 2014 is a whole new ball game. 
Typically we would see 5 per cent to 6 per cent of our portfolio become available for re-let at this time of year, which would generally go up another notch mid-November. We are sitting with 3.4 per cent of our total stock on the market, or approximately half as many properties available for prospective tenants to consider... hardly launching into our traditional 'crazy season'!
Top end executive rentals are even more tightly held and difficult to secure right now. We now have a waiting list of frustrated executive tenants searching for rentals. Properties over the $900 per week have leased in an astonishing average of four days! 
Looking into 2015, we now expect tenant demand to be high while stock levels will remain tight. Typically, January and February are the most active months of the year but what will occur in the coming months? I suspect those investors with executive properties will capitalise on record rents as the market responds to this acute shortage of homes. 
Investors, this surely couldn't be a better time to secure solid rental returns for your properties, and to either upgrade or expand your landlord business activities. 
ABOUT THE AUTHOR
---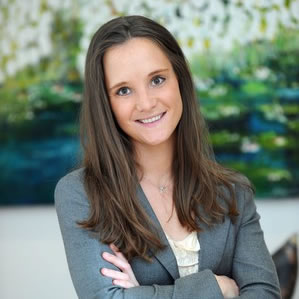 In 2010, Suzannah completed a double-degree with a major in finance and property, as well as achieving honours in law. Suzannah was then accepted into the AMP Capital Graduate Program in 2011 and joined the property investment team in Sydney. During this time she commenced her College of Law studies and was working alongside an in-house solicitor gaining experience in the transactions team, focusing on due diligence. Having spent 18 months working alongside fund managers, commercial valuers and property developers, Suzannah returned home to work in the family business in mid-2012 and is now head of property management at Toop&Toop.