It takes hard work, long hours and an overriding belief that it can be done. 16 January 2014 is a day I will never forget. It is the day that the corporation licence for my company was granted by the Office of Fair Trading, and the day my long-held desire to see the change I wanted to see in my local real estate market became a reality. 
You're out of free articles for this month
To continue reading the rest of this article, please log in.
Create free account to get unlimited news articles and more!
For far too long, property management has played second fiddle in agencies throughout the country; agencies that are typically run by sales-oriented principals. Sure, sales is exciting, quick, transactional – but the long-term relationships forged with your clients in a property management setting far outweighs the short-term thrill of hunting the next sale.
Additionally, to think that so much time and effort is spent by the run-of-the-mill agency on promoting sales whilst just letting property management 'happen', has always astounded me. Everyone knows that the bulk of a real estate business' value is in the size and quality of its rent roll, yet not enough was being done to truly grow and support that side of the business.
And so Wagga Property Management was born.
After signing the lease on a 40sqm office with main street frontage at the business end of Wagga's CBD, I was in business. And the first and only priority: growth. I had taken a punt on myself and set myself a fairly ambitious goal of growing the business from a standing start to 100 properties under management within 12 months. After 13 years in the real estate industry, I knew that prospective clients weren't going to be barging down the office door to trust the new kid on the block to manage their portfolio. It was going to take a measured, thought-out plan around organic growth.
As a start-up, property management-only business, I had zero clients and no sales team to rely on for referrals. So, where on Earth was I going to find 100 properties to manage in 12 months?
The primary focus was around fostering business-to-business relationships and building brand awareness within the marketplace, whilst working on a very modest budget. I needed to be smart about how I would get the best bang for my buck in terms of marketing, and had to prove to service providers who had influence over property investors that choosing Wagga Property Management was in their clients' absolute best interest. If I could demonstrate to solicitors, accountants, financial planners, building inspectors etc that, although we were new, we were bound to become market leaders by offering a specialised service that was yet to be offered in our market. Then they would naturally refer their clients to me. I also joined the Wagga chapter of BNI and have gained introductions to a number of landlords from other members of the chapter. I have found BNI to be fantastic, as it offers a structured approach to referrals.
When it came to marketing and brand awareness, our aim was simple: to have as many people as possible know that we existed, and that we did a far better job than any of our competitors by specialising in one thing, property management.
From day one, one of the biggest drivers of brand awareness has been social media, in particular Facebook. After a company page was set up and the obvious invitation to all on my friends list was sent, I went about increasing our number of likers by running a few 'like and win' competitions. This aided in boosting the business' exposure and sure enough, our number of likers grew. Then we needed to be very particular about what was posted. I had been a liker of a number of real estate agencies' pages in the past, and I found that a lot of what they posted was boring, irrelevant and far too much. So the decision was made to base the majority of our content on success marketing and limit the frequency of our posts to one every 7-10 days. Sure enough, as our likers were exposed to our constant successes, a buzz started to be generated about how well we were doing, which in turn led to prospective landlords calling us to find out more about our services. Now, 11 months later, almost all of our new business enquiries mention that whilst they may have primarily called us because of a referral, a newspaper ad, or a Google search, they have also seen our success on Facebook.
After a couple of months, when cash flow finally allowed for it, we started advertising in the real estate section of our local newspaper. Every single agency had an ad in the property management section, and although they varied in size, they all followed the same format – 4-6 available properties, each with a thumbnail-sized photo and a line or two of description. What a waste of money and effort! The photos were barely recognisable and with every man and his dog now owning a smartphone and being able to access the internet 24/7, no prospective tenants were rushing out of bed to buy the Saturday paper to find their new rental property. So, after a meeting with our newspaper's general manager (and some hard negotiation on price per column inch), we committed to taking a weekly ad at the largest size we could afford, which happened to be about 30 per cent larger than that of the next biggest ad (remember what I said about PM playing second fiddle to sales…). It was agreed that our ad would appear on the top left-hand corner of the first of the two property management pages, so I knew it would stand out. And instead of the drab, pixelated photos and poorly written description, we alternated each week between advertising just a list of the properties we had available (address, price, bed, bath, car), and information about Wagga Property Management and why we were the superior choice in managing investment property.
Importantly, we ensured continuity between what we were preaching on Facebook and in the paper, to hammer home the message that we were trying to get across. We also ensured continuity of design and branding across all of our marketing material, listing presentation folders and new business info, newspaper ads and Facebook page.
I also hit the phones hard, speaking to anyone and everyone who I knew owned a rental property. And not only people I knew personally, but people I found advertising their own homes for lease on Gumtree and a local 'House To Rent' Facebook page. I also kept a daily track on properties advertised on realestate.com.au and was able to identify a few houses I had some kind of knowledge of (previous sales from an agency I formerly worked at, friends and family of friends and family who I may have known owned certain property, etc). If there was a chance that I could make contact with an owner of a property, through whatever means, they would get a call.
The final important decision I made in regards to growth was to engage Tara from the BDM Academy to provide coaching, mentoring and a plethora of systems and ideas all centred around organic rent roll growth. Being a single operator who, in the beginning, was responsible for all facets of the business, I had no-one in particular to bounce ideas off and keep me in check. Tara's strategies have certainly had an impact on our results, and having her monitor our monthly results has kept me accountable and increased the drive to continually better our results.
And so now, 11 months since that fateful day in January, I can tell you that everything that was in put in place in the beginning has worked. The goal posts have shifted and now, instead of having a target of 100 properties under management by our first anniversary, the target is 200 (we are currently sitting at 189 – I have 30 days to get 11 more in the bag!). Instead of expecting to hire a part-time property manager by our first anniversary, there are now three of us working in the business. Instead of thinking that our modest 40sqm office would accommodate what we needed for the duration of our three-year lease, we will have outgrown it in about half that time. And our first, heavily sign-written PM vehicle will be hitting the roads of Wagga by the end of the week!
It has been one hell of a year.
ABOUT THE AUTHOR
---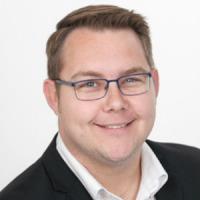 From humble beginnings as the office boy in a small independent agency when he finished high school, Dave Skow has forged a solid career in the real estate industry over the last 15 years.
Opening Wagga Property Management in January 2014, Dave has built a solid property management specialist agency experiencing net growth of over 300 properties in its first 18 months. Continuing to enjoy unprecedented growth for an independent, property-management-only agency, WPM was recently awarded as the best Property Management Agency in NSW at the Investors Choice Awards.
Dave is recognised as a leader in property management and business development, and he's regularly featured in industry publications as well as presenting at events such as the BDM Academy Innovate conference.