After a peaceful three years without any NCAT hearings, I've had a run of them over the last three months, varying from tenant evictions to simple bond claims.
It never rains, but it pours - although it was interesting to see how much focus NCAT are placing on the process that should be taken by agents when a tenant vacates.
So this is really just a reminder to self-managing landlords and other property managers to make sure you have solid, unquestionable evidence that you have invited your tenants to attend the final inspection. Our office includes an invitation in writing on their confirmation of notice to vacate, requesting that they email us to arrange an appointment. To be honest, we also take it one step further and additionally ask them either verbally or via email, a task which must be marked off as complete on our vacating tenant checklist.
The other thing that was raised was evidence of submitting quotes to the tenant for the cleaning or repair work that you are intending to deduct from the bond. With respect to cleaning quotes and invoices especially, NCAT like to see how many hours of work have been quoted and what the hourly rate is. If you don't have that specific information on your cleaning documentation, don't expect to get awarded the full amount.
And finally, make sure your ingoing inspection is 100 per cent complete, with the correct corresponding dates to the lease, and your outgoing inspection 100 per cent reflects the bond items that are in dispute. Before and after photos are an expectation and, as I discovered recently, an iPad that shows the date at the top of the photos is invaluable. For the member, this was sufficient verification of the date that I carried out the actual final inspection, as the apartment hadn't collected dust in the period of time that it was vacant.
I'd love to hear comments from other property managers about their tribunal experiences, specifically about final inspections and bond deductions.
ABOUT THE AUTHOR
---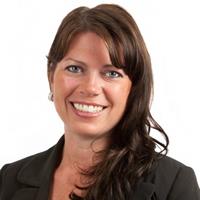 Sarah has over 20 years' experience in property management on Sydney's Lower North Shore. She previously managed a large property management department for eight and half years until mid last year when she made the decision to team up with an ex-colleague of hers, Jaala Cusack, and open her own boutique property management business called Latham Cusack Property Services. Based in Cremorne, they manage properties along the Lower North Shore. Their main focus is to offer a more personalised and proactive style of property management – one dedicated to listening to and meeting their clients' individual needs.
Make sure you never miss an episode by subscribing to us now on iTunes
And dont't forget to leave REB a review!

Listen to other installment of the Real Estate Business Podcast