Attention property managers – there are two main rules your landlords must consider.
Don't renovate a rental property as if you are renovating your own home.


Less is more. Remember, the property needs to be a blank canvas that tenants can move into and make their home. The more landlords cater to their own taste, the less likely the property will suit others.
I completely understand when I hear that other property managers tell their landlords they don't oversee renovations or upgrade work on the rental properties they manage. It's a big job that can be fraught with unforseen hiccups and if they don't have much experience, it can turn into a costly and time-consuming nightmare.
My agency offers a project management service to our clients, but we charge a commission to undertake the work. It is not unusual for me to have to go onsite as often as three times a day to meet tradies or give directions. This can be time-consuming and take you away from your other property management duties.
Below is a brief guide of handy hints that I've picked up from my renovation experiences. I hope they're helpful.
Before you've approved your quotes, seek approval from the owners corporation to undertake the proposed renovations. Even if you don't end up following through on all the planned work, at least you've started the process. Some owners corporations have lengthy wait times in granting approval, depending on their decision-making process and the size of the executive committee. In addition to this, concrete cancer can be a common problem, so it might be a good opportunity to have the floor inspected by a professional if you are planning to replace the carpet. If it needs repairing, now is a good time to do it.


Make a list of what areas require an upgrade in order of priority and a rough budget. For owner-occupiers renovating their own home, the general rule is to spend around 5 per cent of the value of the property on the kitchen and about 1 per cent on the bathroom. For rental properties, I'd suggest reducing that to around 3-4 per cent for kitchens and under 1 per cent for the bathroom/s. First impressions count, so when prioritising, be mindful of the first things potential tenants will see when they arrive at the open-for-inspection. Allocate approximately 10-20 per cent of your budget for contingencies. I assure you, renovations rarely run to plan.


Once a time-frame has been established, deliver a letter to each resident in the building to notify them of the planned renovations and, if possible, have it displayed in the foyer of the building or common areas, giving as much notice as possible. Be sure to include the contact number of the onsite tradies or your office and an estimate of completion time. Be prepared: you may be asked for a deposit to cover any damage to common property.


Any planned structural work will need to be inspected by a structural engineer, who will provide a certificate. Some owners corporations require a certificate before the works are carried out, stating that the work can be done. Some only need a certificate after the job is done to confirm that the works carried out are in accordance with regulations. Again, double-check the requirements as they will vary from building to building.


Carefully select your tradies. Make suggestions to landlords, since most property managers know tradies with references who are reliable and usually competitively priced. Ask for copies of your tradies' Certificate of Currency for insurance particulars. Check that they adequately covered, but if they are being used by a real estate agency they should be.


Always leave the carpet replacement until the end. This may seem obvious but even the most careful tradies with their drop-sheets make a mess. Not to mention you may end up with a difference in carpet heights against the paintwork on the wall if you paint and re-carpet in the wrong order. Most of the time new carpet is higher than the old carpet, but if you're dealing with an 80s-style shag pile carpet, you could end up with a gap between the paint and the new sisal you've just put in.


Try to use kitchen bench-tops that are heat, scratch and stain resistant and that come with good warranty periods. This is one area of your renovation in which you should spend as much as you can afford, to ensure durability. There are some very good quality laminates that are among the hardest-wearing and most affordable in the world of bench-top materials. Natural stone is a stunning product and very popular at the moment, but for rental properties, engineered stone is a good alternative to its more expensive cousin. Silestone is composed of 94 per cent natural quartz and is the only quartz bench-top that has a high resistance to stains, scratches, heat and liquid. Please, please avoid timber. It's high-maintenance and, if not regularly sealed, can absorb water and leave you with a nasty dark stain or swelling.


Ensure you allow for plenty of power points in your splashback and/or cupboards. Tell your kitchen installer where you want them after the strip-out has occurred (a black marker indicating the locations with a cross works a treat). While tiling your splashback is considerably cheaper, if you can afford glass, it's far easier to keep clean and less maintenance in future, with the re-grouting of discoloured, stained and deteriorated grout.


Choose kitchen cabinetry finishes that aren't susceptible to showing up fingerprints and food splashes (try to avoid a glossy/shiny look). Keep the colours neutral; they are less likely to date and tenants can add colour with their accessories. Avoid dark colours if your kitchen is a little pokey, and make sure you have good lighting. Downlights or track spotlights are ideal.


Look for cooking packages when buying your appliances. Harvey Norman, 2nds World and Appliances Online are my personal favourites. If your kitchen design company can source them, let them. They can usually get better deals than the general public and can more efficiently co-ordinate the delivery and installation of the items to fit in with their schedule.


Lay your kitchen flooring between strip-out and installation.


If you're re-painting, install door stoppers behind all the doors to help preserve the newly painted walls.
Finally, don't be afraid to ask questions of your tradies throughout the renovation process. Renovating is a fantastic learning curve that you will certainly benefit from if you renovate again in the future.
ABOUT THE AUTHOR
---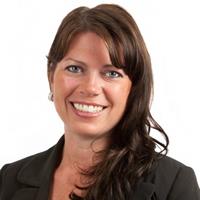 Sarah has over 20 years' experience in property management on Sydney's Lower North Shore. She previously managed a large property management department for eight and half years until mid last year when she made the decision to team up with an ex-colleague of hers, Jaala Cusack, and open her own boutique property management business called Latham Cusack Property Services. Based in Cremorne, they manage properties along the Lower North Shore. Their main focus is to offer a more personalised and proactive style of property management – one dedicated to listening to and meeting their clients' individual needs.
Make sure you never miss an episode by subscribing to us now on iTunes
And dont't forget to leave REB a review!

Listen to other installment of the Real Estate Business Podcast