Every property management team should have a list of best practice pledges to motivate high standards of customer experience. These standards should be set with a minimum delivery level that you as a customer would expect. 
Best practice considerations

When workshopping your promises, consider these five main areas:
Communication: This should be your number one priority above all other things. Aim to respond to all customers within a 24-hour period. If we look at the cause of complaints agents receive, it nearly always comes down to poor communication.
24/7 online access: Property information, including statements, ideally will be accessible online. This offers customers transparency, even if they are simply viewing their transactions. It creates an ongoing working relationship and in the long-run, less running around on your end.
Inspections: In the tenancy agreement, we promise that we will conduct a certain number of inspections within a specified period. When we do not uphold our agency agreement, we open the door to serious liability. There have been cases where compensation claims have been upheld due to improper or infrequent inspections in addition to back-pay of agent fees.
Renewals: This is incredibly important, especially to investor customers. Many insurance policies are considered void if the lease is not current or on a month-to-month basis. Renewals must be forwarded to the owner in good time and make sure you let them know about possible insurance invalidation should they not make a timely decision.
References: Aim to turn around all tenant references within one working day of receipt. If you cannot get hold of references and have left messages, let your potential tenant know so they can follow up on their end. Legwork can be done by both parties to ensure a house isn't left empty and costing the investor money.
Make these promises today

Your offices' best practice promises should be made to home owners and tenants, but also to your team. Here are some promises to get you started. And remember, you can adapt them to suit your marketplace.
1. Take personal pride in everything you do
2. Treat customers and colleagues with unconditional respect
3. Remain positive and enthusiastic about everything you undertake
4. Do what is best for your customers, not what is best for you
5. Network with everyone you meet and let people know what you do
6. Share your knowledge and success, as we all grow and learn from each other
7. Never compromise on ethics or integrity
8. Never take family or friends for granted for the sake of business
9. Enjoy life, family, friends and work, and make time to have fun
10. Make dreams happen
What happens if you don't follow through?
Internally, there are many things you can do to ensure that promises are fulfilled and appropriate action is taken if they are not.
Some agents may be able to offer lower management fees, but you can offer your clients a guarantee instead. If you do not return a customer's phone call within 24 hours, you will manage their property for the next one/two/three months free of charge. In order to do this, you can pay your teams incentives based on the activities that they do well and debit them when they fail to perform.
ABOUT THE AUTHOR
---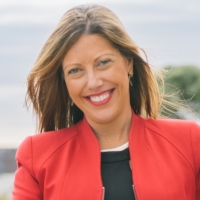 With 20 years' experience within the real estate industry across sales, property investment management, team performance, training and consulting all over Australia and New Zealand, Amy Sanderson knows how real estate agents think and feel. As network performance manager - property investment management for LJ Hooker, Amy is responsible for the leadership of systems development and up-skilling of LJ Hooker's property management operations across over 650 offices in Australia and New Zealand.
Make sure you never miss an episode by subscribing to us now on iTunes
And dont't forget to leave REB a review!

Listen to other installment of the Real Estate Business Podcast