Buying an apartment is obviously a big decision for any investor and short of working in the design industry, it can be hard to decipher which design trends will be relevant in five to 10 years' time.
Some trends that that look fresh and modern now may look anything but in five years' time. However, some trends have more longevity and will continue to look great well into the future.
As I lead the interiors department at DKO, I've seen trends come and go over the years and am in a unique position to give some advice on what to look out for when purchasing to help maximise the return on investment down the track.
I will use Golden Age's Sky One and Park One developments as case studies as they are favourite projects for me and showcases designing for the long-term well.
Apartment communal areas:
When you walk into a communal area of an apartment building, you will notice immediately the flow of the space. It doesn't need to be palatial to have good natural light and a sense of flow.
Look out for natural features as these won't age and will grow more established with each year.
The green spaces around the Park One development provide restful garden settings and scenic vistas from every window, with a blend of flowering natives and lush greenery.
Living area:
Apartments that offer open plan living is a key and timeless selling point. Open plan living allows individual occupants the opportunity to furnish the space with their own design.
Storage is essential in urban apartment living and potential reselling. You can never have too much of it, and this is a key design feature in utilising available space in Golden Age's Sky One and Park One developments.
Similarly, quality materials and fixtures provide a classic design that will stand the test of time and multiple occupants.
Natural light and cross ventilation are fundamental requirements for healthy living and highly sought after in apartment living. These provide an opportunity for future owners to see the apartment as a large, open and adaptable space that they can adapt to their own lifestyle.
Bathroom:
Bathroom designs are a big selling point in any apartment. Sticking to classic, luxe materials like natural stone with a strong grain will age well compared to tiles and laminates that seem to cycle through trends more frequently.
Lighting placement is usually an overlooked design element but is important in ensuring adequate face illumination for each apartment buyer's daily rituals.
In the Sky One project we used generous mirrors and ample lighting for a paired back, stylish and practical design. The merging strong lineal joinery composition with hints of curves in tapware and joinery handles consolidated sips of current trends with recognised timeless designs.
Also, look out for ample storage under vanities and behind mirrors along with linen storage which is imperative to providing a sellable space for savvy apartment buyers in the future.
Bedroom:
A key draw card in any apartment is the feeling each occupant gets when entering the bedroom. The bedroom should embody warmth, comfort and style. Look out for design that appeals to all as a blank canvas – people will fall in love with a space that they can put their own design on.
More practical desirable characteristics include ample space and natural light, which is an obvious timeless feature, and ideal for maximising at resale.
Kitchen:
We all know the kitchen is known as the heart of any home. In order to maximise value in the future, kitchens are a key area that have to be thoughtfully designed.
Generously-sized kitchens with plenty of bench workspace and full pantries are a major selling point to accommodate a variety of family units. These are also characteristics that will, of course, continue to be key selling points for years.
Kitchen task lighting is a staple of good design, so take the time to check what areas of the kitchen are well lit at night. Pendants, however, are something that can easily be changed to keep in line with personal tastes and current trends.
A kitchen design that utilises a strong, solid base of neutral tones and delicately grained timber will provide a timeless backdrop for changing styles and fashions with the furnishings of multiple occupants.
Installing tapware with perfectly matched joinery hardware are the pops of subtle metallic that give the palette character and could be updated in the future if desired.
And, of course, a kitchen is not complete without correct storage. Look out for a full kitchen pantry as this will conceal everyday items and are a big selling point to future buyers, whether they are families or singles.
ABOUT THE AUTHOR
---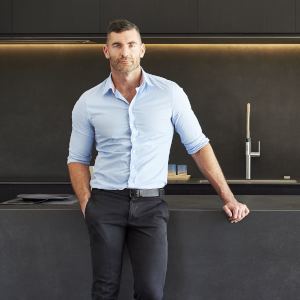 Michael graduated from an Architecture Degree from Queensland and studied both in China and Japan. His experience from different parts of Australia and Asia and his keen interest in residential architecture have been applied in Victoria, NSW and Vietnam, and enhanced DKO's knowledge during the design and planning process. His broad range of experience enables projects to be completed with the highest level of quality from the conception to execution stages. His recent exposure and development of significant Residential Masterplans has complimented his built form design outcomes. Michael Drescher is one of Australia's leading interiors experts. He heads up the interiors department at DKO Architecture, a firm with offices throughout the Southern Hemisphere.
Make sure you never miss an episode by subscribing to us now on iTunes
And dont't forget to leave REB a review!

Listen to other installment of the Real Estate Business Podcast