Airbnb is a great way for owner-occupiers to make a little extra cash from their spare room. It is also a popular option for investors willing to manage a series of short-stay tenants, instead of a long-term renter.
In many cases, it's usually not the investor who lists and manages their property on Airbnb. Recently, a new trend has emerged in which individuals or short-stay businesses take on leases for multiple properties in key locations, for the express purpose of renting them to short-term tenants through the Airbnb platform.
There are two ways this works. The more common option is that the Airbnb 'host' offers a landlord above market rent for a property in a desirable location, effectively pricing private renters out of the running. Many landlords are actually trying to prevent their properties being listed on Airbnb at the moment, but this higher rent is incentive to allow it.
The host or agency is also responsible for listing the property and managing bookings, so the landlord is earning above-average rent every week, without having to do any extra work.
The other method is to offer landlords a profit share set-up, in which the host or agency still manages the listing and bookings, but splits the profits with the property owner, instead of paying a fixed rent each week. This is a less secure source of income for the landlord, since they won't earn anything when the property is not booked, but it does have the potential to reap big profits, since the owner of the property could be keeping as much as 75 per cent of the income.
This rising trend of short-stay rental businesses being run through the Airbnb platform presents a lucrative venture for landlords, but for Australia's growing population of private renters, it's bad news.
Not only are private renters being priced out by short-stay businesses when it comes to applying for housing close to hubs like universities or city centres, but the supply of rental properties in these areas is also quickly being soaked up.
That's because while the average investor might have one or two rental properties in their portfolio, these short-stay agencies are able to rent as many as 10 or 15 places at a time. It partly explains why new building projects aren't having much impact on alleviating our housing affordability issues.
The next big thing

Is short-stay the next big trend for landlords?
And Chill Property Management, one of Australia's biggest Airbnb management agencies for property investors, recently claimed that when run right, this kind of short-stay listing can offer up to three times the return of traditional long-term rent. That's pretty enticing.
In many ways, it's a win-win for all landlords. As more investors start listing their properties for short-term stays, private rental supply will dwindle. And considering data from the Housing Industry Association has shown a 10 per cent increase in the number of renters in Sydney and Melbourne since the last census, demand for private rentals isn't likely to decrease any time soon.
That means that in the long run, if these Airbnb businesses really do take off as well as it seems they might, they'll have the side effect of also driving a price increase in private, long-term rent. And while that's good news for property investors on both sides of the equation, it's people who are stuck renting long-term because they can't afford to buy, who will ultimately be left in the lurch.
One solution? Renters can get in on the Airbnb business themselves, as long as they come to an agreement with the landlord.
For example, say you rent a four-bedroom place for $1,500 a week. List two of the rooms on Airbnb, and you could be covering the entire cost of the rent most of the time. As the old saying goes, if you can't beat them, join them.
ABOUT THE AUTHOR
---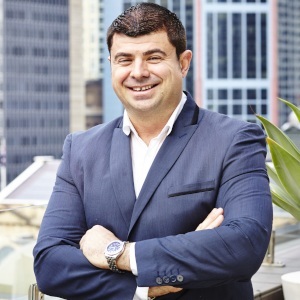 Steve is Mozo's property investment and lending expert. With an extensive knowledge of home loan products and property trends, Steve is full of practical tips to help first homebuyers, refinancers or investors build and get the most out of their property portfolio.