The term "attraction agent" gets thrown around a lot, yet defining the exact ingredients that make a real estate professional stand out is quite difficult.
You may know the local area and market inside out, but often that is not enough, even alongside a flashy car. So, what sets apart the average from the best? Let me explain.
It's all about energy. I don't mean how many shots of coffee you had that morning; I mean your vibe. It is the aura that beams around you, which you can't hide behind your outfit and you definitely can't fake. People are attracted to the way you make them feel. When you are confident, inspiring and balanced, people will be drawn to you.
When you meet a potential client, you only have a small window of time to show your strengths. Just like an amazing movie trailer makes people want to see the full movie, it's your chance to show potential clients that you are, without a doubt, the best agent for them.
Energy, adaptability and empathy are the key traits that allow agents to distinguish themselves as relatable, trusted people. These skills will also help you improve in other aspects of your job, like leading your internal team. Effective communication and the ability to truly listen to people's needs are essential in this industry. Real communication happens at an emotional level, when we share feelings, opinions and values. Only then can we relate as human beings, and that's exactly how we develop trust.
As agents, we are so much more than people who list and sell property. We are responsible for making our clients feel safe, valued and confident in our ability, because our clients are trusting us with their most important asset.
The market is in a state of transition and it is delusional to think that the market will always stay the same, which is why we need to be resilient and adaptable.
Resilience is about riding the waves, learning from the challenges and then coming out on top as a better version of yourself.
With factors like tightening lending and changes to the general economy, it is natural that overall confidence has lowered. This is where we step in. Vendors need us more than ever and they will relish your positive energy, which is why it is so important to cultivate a high vibration. Be prepared to take on other people's baggage and then equip yourself with the tools to de-stress, stay balanced and re-energise.
Fostering these soft skills that make us better communicators will allow agents to show potential clients why we are worth more than the many other agents out there. It's the same in any field; if you know your industry, you are adaptable and you make people feel good, you will be a powerful force. This is the recipe to standing out in a sea of sameness.
ABOUT THE AUTHOR
---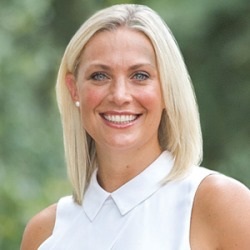 Kate is a director of Marshall White Brighton. An accomplished real estate professional, she is positioned at the forefront of Marshall White's training and leadership program.
Kate played softball for Australia and represented Victoria in a number of sports.
She holds degrees in communications and business.