You would be hard pressed to find a property manager who hasn't had to alter their ways of working to combat the challenges that COVID-19 has presented — here's how one Sydney-based BDM's team is responding.
For Adam Freitas, the new business executive at Raine & Horne Newtown, the onset of the COVID-19 pandemic forced a fundamental shift in the way his property management team undertook its business.
Speaking to REB, the BDM of the Year and Excellence Award winner at the REB Awards 2020, said "we immediately knew that change was going to be necessary".
"The pandemic naturally changed almost all of our goals in property management for 2020," he said.
"Given our city fringe location and proximity to a number of tertiary educational campuses, we traditionally have a large number of tenants who are either students or who work in hospitality, tourism and retail."
With these sectors being among the worst hit when restrictions came into play, Mr Freitas said his team was "bombarded with requests for rental assistance".
"Basically, everyone's role changed," he stated.
"It was all hands on deck helping each other to get the job done."
According to the BDM, "the most amazing part of this was seeing the team do this without even being asked most of the time. They just worked so hard to get the job done for each other."
Shifting priorities

Prior to COVID-19, Raine & Horne Newtown's property management team was working in pods. With the onset of the pandemic, Mr Freitas said they identified that the leasing property phase was going to be "more important than ever".
"We created a leasing team of five full-time leasing consultants from our original pods. This meant the property managers had to deal with both tenants and landlords rather than having a team member assist."

He said that the agency's sales executive assistances also began helping out the property management team, too, explaining that they were allocated a leasing consultant to assist and they called all enquiries and booked in private appointments for the leasing team, which "enabled us to concentrate on leasing as many properties as possible in the shortest time".

COVID-19 challenges
As a forward-thinking agency, the new business executive said some of the changes required by COVID-19 were already on the cards for the Newtown office.
"Pre-COVID-19, we had already trialled working from home arrangements," Mr Freitas told REB.
"We identified the type of hardware and software necessary for our team to work from home effectively and ironed out issues we came across."
This meant that when the time came, the entire Raine & Horne office "found it easy to split our team into two, with one working from home and one in the office, rotating week in, week out".

It was a similar story with regard to virtual tours, with the BDM noting that "pre-COVID-19, we offered our clients virtual tours for their properties, allowing tenants to get a full sense of the property before inspections".
He explained that once the pandemic had hit, they went out and shot all of our properties virtually.
"This way, if a prospective tenant was happy to proceed with the rental by virtual inspections, we could offer that service. I personally went and shot these to assist the team."

Above everything else, Mr Freitas said the team's, and the clients' safety, was always the first priority.
"We had all staff carry a kit with them consisting of hand sanitiser, disinfectant wipes, gloves and masks. Ensuring social distancing was always in place across our whole business."
From Mr Freitas' perspective, it's a relief to be able to conduct open homes and regular inspections again.
"To be honest, we're grateful that we haven't had to experience the type of restrictions our neighbours in Victoria have gone through," he commented.
Noting the need to rely solely on private inspections as extremely time-consuming — although very effective — the business development manager said "it's nice to have the option", especially as they ease back into face-to-face routine inspections again.
Moving forward
While acknowledging just how much COVID-19 had altered the office's goals for 2020, Mr Freitas said that while their vision for the future remains the same, "it is clear that strategies will be different".
"The way we used to conduct business has shifted and we will keep quite a few changes moving out of 2020 into the new year."
With COVID-19 still a pervasive issue on the conscience of all Australians, Mr Freitas said the next challenge facing his team will centre on "how things go once the governments support ends".
"Does the government extend the financial support further? Is a vaccine on the horizon? What happens if there is another wave?" he queried.
While acknowledging that there are still so many questions, Mr Freitas has an optimistic outlook: "After seeing our community come together during the peak of the pandemic, we are positive that we'll be able to tackle whatever the future holds. It may not be easy, but together we'll get through it.
"As a team, we implemented everything we could in an ad hoc fashion, just like every other agency, to help get us through the initial 'shock' phase of the pandemic," he said.
"I really don't think there was anything we could have done differently at the time.
"[But] now that is has calmed down a little, we are able to look back, reflect and start to replan our next steps."
While he does expect the next wave of JobSeeker and JobKeeper reductions to again impact many of his clients, he's doing everything he can to be ready for it.
"We will be better prepared for the next challenge," he said.
ABOUT THE AUTHOR
---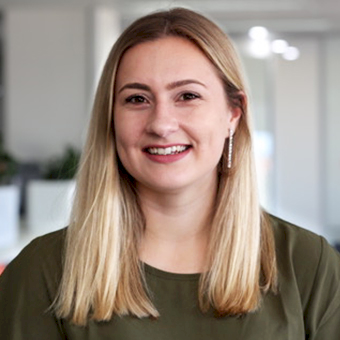 Grace is a journalist across Momentum property and investment brands. Grace joined Momentum Media in 2018, bringing with her a Bachelor of Laws and a Bachelor of Communication (Journalism) from the University of Newcastle. She's passionate about delivering easy to digest information and content relevant to her key audiences and stakeholders.