Gone are the days when property managers solely looked after rent rolls, according to a property management director.
According to Coronis Now's Jodie Stainton, with the existence of so many iterations of real estate agencies and businesses, it was only a matter of time before a new breed of "real estate professional" emerged. 
She's observed a recent rise in the number of partners who are not only running their own property management portfolios, but also listing and selling those investment properties they do look after.
"When a property manager builds their own portfolio of landlords, who they look after individually, attend to their every need and are the sole point of contact, a strong relationship between that landlord and property manager forms based on trust and transparency," Ms Stainton commented.
"Therefore, it makes perfect sense that when the time comes for that landlord to sell their investment, they ask their property manager to do it for them as there is no else that knows their property better."
According to the director, many of the Coronis Now partners who are branching out into the sales process have worked in agencies before, meaning "it's not that much of a jump for them to sell a property".  
She added that in many of the cases, property managers have sold properties from their portfolios to other investors they know or have looked after.
"One of the many benefits of using their property manager to sell their investment property is they already have a highly engaged audience of like-minded people, who often want to expand their net wealth so are looking for another tenanted property," she explained.
On average, an agency sells approximately 8 per cent of their investment properties per year, Ms Stainton said, so it's "a great opportunity" for property managers to look after their clients and build two revenue streams from their business.
Lia Jagielka is one property manager who has done just that.
The state director at Coronis Victoria, Ms Jagielka sold her first property in July 2020.  
She has revealed she had been asked numerous times over the years to sell properties and had always said no; "however, I was asked by one particular landlord of mine, with a brilliant long-term tenant, and I decided that I would do it, but with my own spin".
She explained that advertising for the property was targeted towards investors: "We spoke about the yield, the tenant and the tenancy and how we were looking for another investor to purchase the property.
"I posted that on Facebook and how the property was coming to market soon and the next day I had an investor contact me, inspect the property and submit an offer.
"So, I had two very happy landlords and one very happy tenant who all got what they wanted."
When she launched her business, the professional highlighted how she only wanted to focus on property management.
"But I want to look after my clients and help them wherever possible, so if that means selling investment properties and helping more local investors, that's what I'm going to do," she said.
ABOUT THE AUTHOR
---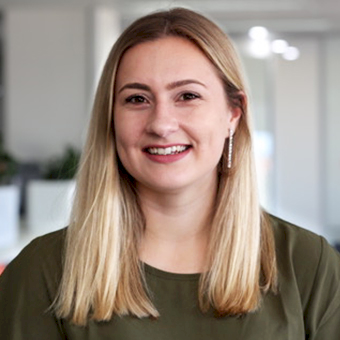 Grace is a journalist across Momentum property and investment brands. Grace joined Momentum Media in 2018, bringing with her a Bachelor of Laws and a Bachelor of Communication (Journalism) from the University of Newcastle. She's passionate about delivering easy to digest information and content relevant to her key audiences and stakeholders.