A Queensland real estate agency has smashed its personal record for property management signings over October – with credit given to its emphasis on customer service through the COVID-19 crisis.
Ray White Woody Point has reported 50 new management signings over the month of October.
Director Damien Misso commented: "To give that figure some context, it's almost like a year's worth of managements in one month."
The Moreton Bay-based agency said the office record coincided with the recruitment of a new business development manager, Hayley Stever.
Mr Misso said the office was averaging between five and six managements a month prior to Hayley joining the team.
"The harder you work, the luckier you get, and we've put a lot of building blocks in place to now reap the rewards," he added.
Touting the agency's dedication to premium service, Mr Misso outlined that the team had "built a business on service, and have worked really hard through the pandemic to constantly keep owners updated with any changes".
As a result, Mr Misso said they had "survived the worst of the pandemic and were then able to grow and bring people in, like Hayley, to support our property managers and deliver the best experience to our investors".
The director stated that Ray White Woody Point was very proud to bring onboard a dedicated resource to communicate with investors in every step of their journey.
According to Ms Stever, "building relationships is key," with the BDM noting that her role is to make the process as seamless as possible for new clients and "allow our property managers to do their jobs".
Prior to joining the team, Ms Stever worked in real estate sales. Even she is surprised by the amount of investors who are now entering the market: "I was in sales 12 months ago and you'd hardly see an investor, and now we're seeing a noticeable increase in investors coming into the market, both local and from interstate."
Ray White's chief executive of property management, Emily Sim, has acknowledged Ms Stever's first month as business development manager, commenting "what a way to start your new role".
She flagged 50 new managements in one month as a rarely achieved accomplishment, and a "huge result" for the agency.
"In the case of Woody Point, this represents 11 per cent growth in one month alone."
"I know that Kirrilli Cobley on our property management team has worked closely with director Damien Misso to structure for growth in their business, so it is not only a delight to see that happen for the team, but they were in a strong position to integrate so many new clients into their business in a month," she concluded.
ABOUT THE AUTHOR
---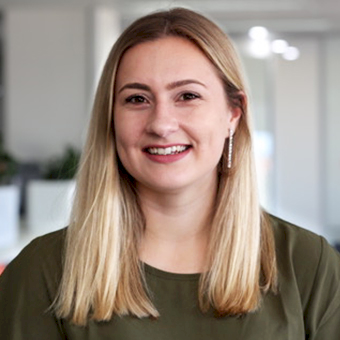 Grace is a journalist across Momentum property and investment brands. Grace joined Momentum Media in 2018, bringing with her a Bachelor of Laws and a Bachelor of Communication (Journalism) from the University of Newcastle. She's passionate about delivering easy to digest information and content relevant to her key audiences and stakeholders.