By looking to the big picture, a BDM was able to pull off a successful 2020 in spite of COVID-19 wreaking havoc on her normal ways of working.
Alexandra Gonsalves, the winner of the BDM of the Year – Property Management award at the REB Women in Real Estate Awards 2020, has illustrated just how many changes she was required to make to her ways of working as a result of the COVID-19 pandemic.
"For starters, I had to change my prospecting methods as buyer enquiry from investors dried up," she began, explaining that this required her to switch her focus to her other four prospecting channels, which at that point were yielding higher returns.
In addition, she was forced to restructure her day "to account for the changing marketplace".
This resulted in an entire rethink of the Coronis BDM's property marketing campaigns, to account for the open-home restrictions she suddenly faced, which included a lot more of virtual property tours as well as one-on-one inspections.
She also flagged working remotely as "quite a change".
"I'm lucky enough to be part of a high-energy team, who have a lot of fun and play a lot of pranks on each other, so to go from that, to be working at home by myself and talking to everyone via Teams was an adjustment," Ms Gonsalves revealed to REB.
It was by looking to the big picture that the BDM stayed motivated.
"I think by remaining focused on my big goals that I wanted to achieve in 2020, like buying a new car and horse float, that I maintained my momentum and made sure I completed my daily tasks consistently to achieve my results," she stated.
It was those personal goals that kept Ms Gonsalves on track through the year, and led her to advise: "That's really important for everyone to have: a clear vision of what you want in life."
She's called her receipt of the BDM of the Year – Property Management award at the REB Women in Real Estate Awards 2020 a "career highlight", overtaking her earlier excitement at being named as a finalist for that very same awards.
Reflecting on being named as the winner, Ms Gonsalves said: "Winning for me was the culmination of six years' worth of work, learning, growing and upskilling.
"It's been a long journey with many highs and lows, but I feel that has made me the BDM I am today. I couldn't be prouder of myself and I am so grateful to my amazing team who helped me get to where I am."  
Looking towards 2021, Ms Gonsalves said it will take "discipline, persistence, motivation, focus and resilience" to succeed this year.
For BDMs who are looking to achieve results like Ms Gonsalves has seen, "you need to be able to analyse your prospecting channels, know which ones are the high-yielding sources and focus on generating leads through them".
She also recommends nurturing data — through phone calls, emails, texts, social media and direct mail — and highlighted the importance of "connecting with them multiple times, via multiple platforms".
But more than ever, the BDM of the Year is urging other BDMs to "really be all over their digital platforms including social and email", especially while COVID sticks around.
"We need to adapt and get used to our new normal," she concluded.
ABOUT THE AUTHOR
---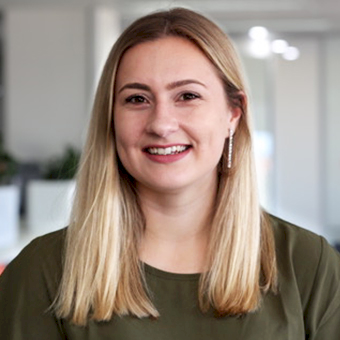 Grace is a journalist across Momentum property and investment brands. Grace joined Momentum Media in 2018, bringing with her a Bachelor of Laws and a Bachelor of Communication (Journalism) from the University of Newcastle. She's passionate about delivering easy to digest information and content relevant to her key audiences and stakeholders.