The importance of a BDM in any real estate business should not be underestimated, according to an award-winning one, who has flagged some of the most important skills they can bring to the table in 2021.
In conversation with REB, Highland Property Agents business development manager Blake Mariner expressed the belief that a BDM "holds immense value within any business".
The winner of BDM of the Year – Property Management at the 2021 REB Awards said: "If done properly, this position cannot only create significant growth for the property management department, but also for the broader business.
"This is due to a higher level of properties being acquired and put under management, which will in turn lead to higher sales volumes and potentially more job opportunities for leasing executives, property managers and also BDMs."
An efficient and streamlined property management business is a major asset for any real estate business, as it creates a consistent income stream, particularly when the sales market is slowing down, the BDM emphasised.
So, what does it take to be a good BDM and provide the above benefits and more to a real estate business in 2021?
Mr Mariner has flagged four skills as important.
1. Know your point of difference
Not only do you need to understand your agency's point of difference, you also need to be effective at promoting them to prospective landlords.
"If you don't believe in the service you are offering, you won't be able to confidentially market it to your client," Mr Mariner conceded.
He added that belief in your own service will also better enable clients to trust in a BDM's ability to get the best result.
2. Market knowledge
Not only should a BDM know everything about the market they do work within, but Mr Mariner has also touted the importance of knowing key indicators for investors.
These include things like rental yields, marketing strategies and ways to expose the property to more people, which the BDM said will, ultimately, "get the best result possible".
3. Listening and understanding
According to the BDM of the Year, a good BDM should always be listening and understanding.
Considering that BDMs are in a good position to learn and understand their customers and demographic, Mr Mariner said that to make the best impact they can, they must also learn what their customers' needs are now, and what they may require in the future.
"This, in turn, helps them to plan and execute and adjust effectively, if necessary," he continued.  
4. Time management
Lastly, Mr Mariner touted the benefits of good time management.
"Being able to maximise the amount of time you are actively prospecting and meeting with landlords will increase the amount of volume of new business you can generate," he advised.
Building on your skills
There's no one trick to becoming adept at business development, but there are a number of things Mr Mariner himself considers as ways to become better.
Firstly, he is an advocate for spending time talking to people: "Learn to love being on the phone and communicating consistently with your clients."
He also recommends creating weekly routines that can be broken down day by day.
From Mr Mariner's perspective, this is best practice as not every day will be the same but will allow for the maximisation of time and opportunities to prospect.
Thirdly, for BDMs with a sales team or agents around them, it's a good idea to learn how they are able to sell their brand and their points of difference.
According to Mr Mariner, the roles are very similar.
"The only difference is you are selling different things. Get comfortable in selling your brand and the services your team can offer," he expressed.
Last, but certainly not the least, Mr Mariner said it is important to consider every opportunity as a learning experience, whether you win the business or you don't.
Even now, as the BDM of the Year, he admitted that he still finds himself learning from each appointment and experience he goes through.
ABOUT THE AUTHOR
---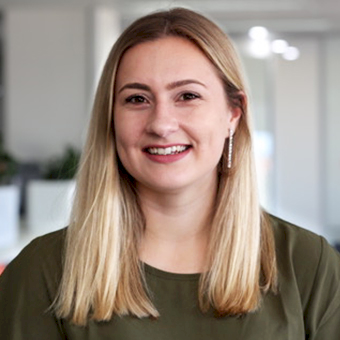 Grace is a journalist across Momentum property and investment brands. Grace joined Momentum Media in 2018, bringing with her a Bachelor of Laws and a Bachelor of Communication (Journalism) from the University of Newcastle. She's passionate about delivering easy to digest information and content relevant to her key audiences and stakeholders.