Georgie Merry may have only been working as a business development manager for half a year, but she's already kicking some massive goals.
Ms Merry is the first student graduate from Coronis' BDM Cadetship Program, which aims to provide "an in-depth learning experience for new-to-industry or struggling BDMs and set them up for a successful career", according to the real estate group's growth leader, Fiona Nichols.
"I think we've really done that for Georgie," Ms Nichols said, highlighting that, in just six months, the cadet managed to sign more than 70 new managements for the group. 
"I personally know a lot of experienced BDMs who are doing that in 12 months after years in the industry.
"From the start of the program, Georgie was a great student and keen to learn the necessary elements of the role plus scripts, processes and database management, and that shows in her results."
Coming into the program as a 19-year-old telemarketer, Ms Merry admitted that, in just half a year, she's already been paid $34,000 in bonuses plus her salary, so she has "almost paid off my new car in one year and kicked some small goals for myself which I am really proud of".
She believes the first two weeks of training — in a classroom — have been crucial to her success. 
"I've spoken to a lot of the BDMs here who started at other agencies and they've all told me how they had no support or education when they began their real estate careers, so I feel really lucky to have hit the ground running with this program," she commented. 
Ms Merry added that while it was an intense two weeks of information overload, "I don't think I would have felt confident going into the office without having done that". 
Looking back, the budding BDM concedes it wasn't all smooth-sailing, and that, in her first month, she was ready to quit. 
"It was all really hard, but Fiona changed the office I was working in; just that change in environment helped me sign 12 new properties in my second month, compared to three in the first month," Ms Merry said.
"Since I started, Fiona and all the senior BDMs here at Coronis have been generous with their time in showing me what they've done in the past, how they prospect, what they say to potential landlords and how they operate, which has been great, because I have been able to take bits and pieces and create my own style."
She's also gleaned a lot from her position in the office, which sees her seated next to the BDM of the Year at REB's Women in Real Estate Awards 2020, Alexandra Gonsalves — stating it "has been amazing".
"She has taught me that there is more to prospecting than just calling the database which has helped me a lot, and I've created a career that has been far more rewarding than I ever thought possible," the new graduate commented.
"I've had untapped access to some amazing mentors and colleagues who have taught me how to successfully operate and establish my career.
"Now I wake up and am excited to come to work, unlike my previous job, which I hated."
Reflecting on her experience in the program, she concluded: "I feel like I have a second family who want to see me succeed and are just so much fun to be around [with]."
ABOUT THE AUTHOR
---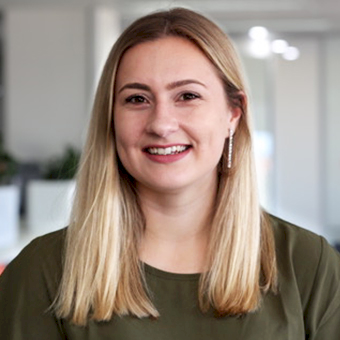 Grace is a journalist across Momentum property and investment brands. Grace joined Momentum Media in 2018, bringing with her a Bachelor of Laws and a Bachelor of Communication (Journalism) from the University of Newcastle. She's passionate about delivering easy to digest information and content relevant to her key audiences and stakeholders.