A CEO has raised a flag on the issue of career development and leadership in the property management space.
In a recent episode of The WIRE, Ray White's property management CEO, Emily Sim, has revealed she was "a little bit mad" when she found out just how similar the skill set is that's shared between good property managers and good sales agents. 
Acknowledging that she'd "been in real estate for a very long time", she reflected: "Why didn't I know that a vendor report and an auction campaign is the same skill set as what we're doing listing for property management? Why didn't I know that pricing a property is pretty much the same as what we do in leasing when we put a rental amount on a property or we need to explain ourselves to our clients?"
When the current CEO did make a move into agency ownership — and was therefore required to list and sell — Ms Sim said her point of difference and capacity to get traction as an agent was "exactly because of my property management skills".
"Any property manager that is people-orientated thrives on being around people, and has a little bit of sales acumen to them, just because it's their nature really shouldn't feel like sales is taboo or beyond them," she flagged.
"They're absolutely more capable, I think, than what sales agents are coming up through the ranks."
According to Ms Sim, it's because property managers "learn to have relationships and we learn that when you have trust with your clients, you get much further and they become advocates for you when they recommend you to people and they take your advice when you recommend it, and when you're in that space, it's amazing".
Considering that as what property managers work for, she said: "You work to get into that space because that's where the joy comes from, the job satisfaction, and the desire to want to keep doing it because it's enjoyable."
She recognises that many talented property managers are likely missing out on career progression — and a lot of the time, it's got to do with gender.
"It's funny how women can be just put in that class as property managers and then everybody's just grateful that they've got a great property manager and they just want to leave them there, rather than trying to encourage them to grow, encourage them to have a career," she observed.
"As a female, no one looked after me in that regard, no sales manager that I'd ever worked for or leader or principal in an agency had ever pulled me aside and said, 'Do you know what, you'd be quite good in sales.'
"Or, 'Do you know what, you're quite good as a leader and you could do more than what you're doing.'"
Looking back on her own career, she credits a "little company called McPherson Real Estate" for her strong grounding in the property management space.
"I think that was a real lucky break for me because that business had a very, very strong work ethic and they had great leadership and they taught me to work hard and they taught me to always take every opportunity and always go forward," she said.
Advising that there's "no secret science" to career progression, Ms Sim said she's just said yes "every time there's been an opportunity".
"No matter how frightening or scary or complicated, in terms of where I live and where the role is or the age of my children versus the responsibility of the role, I've just always said yes — and it's always worked out because you adapt and you make these things work," she said.
Listen to the entire conversation with Emily Sim here.
ABOUT THE AUTHOR
---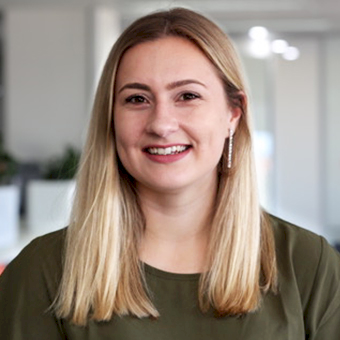 Grace is a journalist across Momentum property and investment brands. Grace joined Momentum Media in 2018, bringing with her a Bachelor of Laws and a Bachelor of Communication (Journalism) from the University of Newcastle. She's passionate about delivering easy to digest information and content relevant to her key audiences and stakeholders.