While there is a commonly held perception that property management is a nine-to-five office job, that doesn't have to be the case, a network director has advised.
On a recent episode of The WIRE, Eview Group owner and director Maria Findikakis expressed the belief that property management and administration work "can be very, very flexible".
She queried: "Why can't we do it from home? Or why can't we job-share?
"It doesn't have to be this nine-to-five, but we always thought it has to be.
"When I would sit down with a prospect, if it was someone that wanted to be in sales or a property manager, or even a receptionist, didn't matter what the position was, especially for women, that's the first thing that I would discuss with them."
From her perspective, "this industry's actually flexible. The sky is the limit."
Offering an example from within her own network, Ms Findikakis said there are property managers who are beginning work at 7.30 in the morning to finish at 3pm — so, they can go and pick up their kids.
She explained: "I've always implemented that within my business because, from my own experience, I knew that it could work. And when you have children, that it's so important to be able to give that opportunity to females within your company. So, we've always done that."
Even as an avid advocate of flexible work previously, the director acknowledges just how much COVID-19 has changed the game.
"Sometimes even you can't think outside the square sometimes. Then COVID hit. We all went home."
She offered up the example of an Eview Group corporate team member who made the lifestyle decision to move to Queensland with her family.
"Everyone was leaving Victoria at some stage," she conceded.
But Ms Findikakis noted that the onboarding manager expressed to her that she still wanted to work for the team.
In response, the director said: "Absolutely. It's a no-brainer!
"Now, if she had asked me that two years ago — [or] would she have asked me? I'm not sure. Has this COVID-19 made us think a little bit differently?
"When you have good people within your team, you can make things work, you know? We have all the systems in place to be able to do that.
"If you want to keep good people, you can actually make it work."
Yet another of her team members made the move to Sweden to spend time with her parents during COVID-19 — and since she has a young baby, she would only be able to work two days per week.
That employee also expressed an interest in keeping her role with the group, despite the geographical distance.  
According to Ms Findikakis, the conversation went a similar way to the corporate team member who had moved to Queensland, with her response a firm "absolutely!"
The increased ability to "be flexible" — and the lessening need for employees to be physically present in an office — has led to the Eview Group looking to introduce four-day working weeks. 
She said: "That's the next thing that we want to do. Can people do the same amount of work in four days that they would do in five days?"
Ms Findikakis is of the belief that it will prove fruitful, especially in property management: "I think they would show up every day.
"They would fit in more into their day, so that they would be able to actually take that extra time off."
Reflecting on the potential for it to be a "very, very, very achievable" way to work, the director has acknowledged that it does require structure within a business.
"Because at the end of the day, you have to make sure that the team is there to support the agents and to support the clients. You've got contracts coming and going, you've got different important work that needs to be done. So, you have to be able to structure it properly. You have to put KPIs in place, and obviously you have to have the IT behind it to be able to communicate properly with everyone," she highlighted.
The director recommends sitting with people individually, and on a personal level, when trying to implement flexible work practices: "You try and find out what works for them best and for their family and then work around that."
In her experience, "people will move mountains for you if you can actually sit down and try honestly and from your heart [to] help them in their situation, so they can live a really, really good life".
Not only will they still get the work done in the different time frame, "they will go above and beyond".  
You can listen to the rest of the conversation with Maria Findikakis here. 
ABOUT THE AUTHOR
---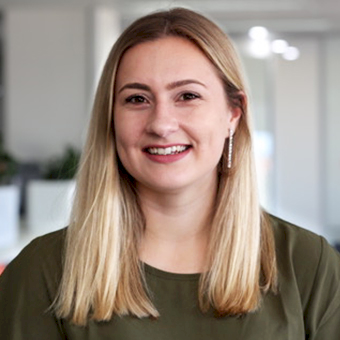 Grace is a journalist across Momentum property and investment brands. Grace joined Momentum Media in 2018, bringing with her a Bachelor of Laws and a Bachelor of Communication (Journalism) from the University of Newcastle. She's passionate about delivering easy to digest information and content relevant to her key audiences and stakeholders.