The ASX-listed network has revealed a new property management member in its executive team, as it looks to "set a new bar" for service offering.
Leanne Byrnes has been appointed to the role of general manager for property management and will be reporting in to the network's national head of property management, Maria Carlino.
Previously of McGrath, Ms Byrnes will be responsible for the general daily operations of the business, including the introduction of efficiency strategies and team management.
According to Ms Carlino, the addition of Ms Byrnes in 2021 coincides with "a very important year for The Agency property management division", which is thriving after expeditious growth over the past four years.
"In 2021, our focus is to set a new bar for The Agency's B2B service offering by remodelling efficiencies, helping our property management team enhance their time and service offering," she said.  
Even with these big plans underway, both Ms Carlino and Ms Byrnes concede that, for right now, COVID restrictions are the biggest challenge facing property managers.
With so much uncertainty, Ms Byrnes has told REB that "being able to adapt quickly, activate a plan B and communicate effectively to both landlord and tenants is key to navigating this challenging time".
"What we have learnt from 2020 along with as recent as our Victorian circuit-breaker lockdown is to ensure we have the resources, technology and processes ready to deploy to keep business moving and alleviate some of the pressure a property manager may be feeling," she explained.
It's a challenge that Ms Carlino said The Agency is well prepared for, having created precedents from previous lockdowns.
Even so, "the disruption is always a challenge — reorientating the routine and converting quickly".
Finding the silver lining, Ms Byrnes highlighted how "working remotely has also seen our industry think outside of the box and introduce the use of virtual inspections, tenant-assisted routines, electronic leases, management agreements and proposals".
"We have been able to adapt these practices into our everyday business," she said.
With technology continuing to evolve, the new general manager believes "we can't be afraid to try new systems to enhance the experience we provide to our landlords and our tenants".
From her perspective, how clients and customers interact with a property manager — and their overall experience — "will play a significant role in the future of property management".
ABOUT THE AUTHOR
---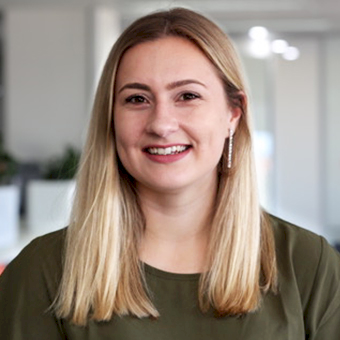 Grace is a journalist across Momentum property and investment brands. Grace joined Momentum Media in 2018, bringing with her a Bachelor of Laws and a Bachelor of Communication (Journalism) from the University of Newcastle. She's passionate about delivering easy to digest information and content relevant to her key audiences and stakeholders.