Property managers would do well to stay up to date with the trends that are taking place across other industries, according to this CEO.
In a recent episode of The WIRE, Suzannah Toop, the CEO of property investment at Toop+Toop, expressed the belief that rising consumer expectations are driving increasing levels of stress in property management teams all over the country.
Reflecting on questions such as "why are emails exploding or why are people wanting instant updates?" Ms Toop conceded, "it's just because it's the way in the world that we're living in".
Not only that, "it's only going to happen more and more".
Alongside hosts Sadhana Smiles and Grace Ormsby, Ms Toop offered up the example of changing consumer attitudes surrounding the purchase of goods online.
She said when ordering online, if a customer is used to receiving their purchases within 48 hours, "they're not going to go and say 'now I'm happy to wait four weeks'. It's going to be 48 hours. It's going to be 24 hours, [then it's] going to be two hours. It's going that way".
"Now, if my expectations like this, that's all our clients are doing. And the whole world's going that way.
"It's all driven by the consumer's expectations."
Taking the brunt
It's why the CEO is such an advocate for using technology to take "a lot of that brunt".
But that's not at the expense of property management roles.
"I think the tasks that we're doing today in property management are incredibly important. They still need to be done – it's just how they look and who's doing them that could shift.
"You're freed up to do the value-add tasks – and that's absolutely the way in which I personally see [property management] will be heading."
She explained Toop+Toop's strategy of technology implementation, stating that she works in collaboration with the team to bring in new innovations: "This is not a matter of it being like, 'this is going to take over the tasks that I've done'.
"They're like, 'oh wow', this is going to be incredibly helpful for me."
From the CEO's point of view, she doesn't see it as very enjoyable "to have to do hundreds of little tasks".
"Knowing that you can have technology that will help you do that [will] reduce your stress. You can go and do the customer-facing: Go and meet a landlord at a property, or look that there's a heritage-listed property and there's a possum in the roof, and we can't get that. Cause we can't like take the roof off because that's against heritage guidelines, whatever those more in-depth problem-solving tasks are."
Explaining that it's those kinds of tasks where Toop+Toop is looking to get their team, Ms Toop explained it as a "value we add to clients".
She spoke negatively of the idea of keeping property managers "so busy that we can't go out and meet them at a property because we've got out hundreds of items of admin tasks to do back in the office".
Reflecting on other industries again, Ms Toop said that's not what the customer expects.
She argued that when people go to the dentist, the dentist won't come in and say, "I'm sorry. I've got to go and do all this."
"That's all non-valuable tasks to the customer."
Bringing it back to property management, Ms Toop said landlords and tenants alike "need you to be freed up to have FaceTime or phone calls if they want that level of service".
In the same vein, "once you have this assistance from your technology … Why would I want to have that stress of those many tasks that were all born by myself rather than having the technology that's helping me get through them all?"
Total transformation
Ms Toop acknowledged that when she first came into the family business, the property management division was "broken".
"It's a vastly different environment than it was all those years ago," she reflected, explaining that it was "just a matter of, putting one initiative in, followed by the next, followed by the next".
"Before you know it, you're in a very different environment than you were before you started taking any steps forward, and that's all it was."
"We took it from broken, including incredible staff turnover, losing clients by the truckload inefficient and just not a very enjoyable environment to come into to where we're at now," the CEO stated.
"If we could do it, then absolutely everybody can get there."
Listen to part one of Suzannah Toop's conversation with Grace Ormsby and Sadhana Smiles here.
Tune in to part two here.  
ABOUT THE AUTHOR
---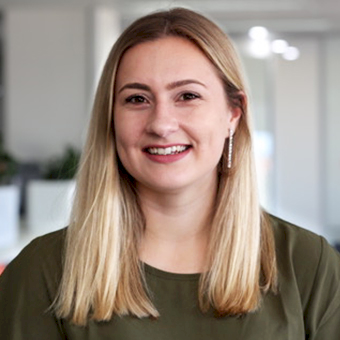 Grace is a journalist across Momentum property and investment brands. Grace joined Momentum Media in 2018, bringing with her a Bachelor of Laws and a Bachelor of Communication (Journalism) from the University of Newcastle. She's passionate about delivering easy to digest information and content relevant to her key audiences and stakeholders.