Theft from an agency's trust account is once again in the headlines, further damaging the reputation of the real estate industry.
Earlier this week, REB reported that Adele Woods, formerly a senior property manager at Tucker's Real Estate in Mollymook, transferred money from the real estate company's trust account to her personal bank accounts.
According to NSW Fair Trading, on 50 separate occasions between December 2016 and April 2019, Ms Woods stole trust account funds while employed by the agency.
NSW Fair Trading executive director of investigations and enforcement Valerie Griswold said Ms Woods' actions caused significant pain and suffering.
"The defendant betrayed the trust of her clients by stealing from them," she said.
"While Tuckers Real Estate was not involved in the fraud, the company suffered significant losses in the period after it was uncovered."
This latest incident comes only weeks after 20 agents were fined sums of up to $11,000, for failing to lodge trust account audits, with eight having their licences cancelled by NSW Fair Trading.
The regulator is also considering penalties for another 35 real estate agents who returned their trust account audits late.
The misappropriation of trust account funds is an all too common theme and is tarnishing the reputation of the industry.
This was reinforced by REB executive editor Phillip Tarrant in a recent opinion piece where he lamented the actions of a minority of rogue agents that undermine the outstanding service the majority of agents and property managers deliver.
"For the fraction of agents that don't do the right thing, the vast bulk of the industry offers huge value to the whole rental ecosystem – serving landlords and tenants to ensure that both sides of the property equation are happy.
"I know this, and you know this, but there are a growing number of investors who are becoming increasingly edgy when they read about the handful of bad apples that taint the barrel," he wrote.
According to the Queensland Office of Fair Trading, the purpose of a real estate trust account is to administer "money you handle on behalf of someone else, under your appointment to act as an agent".
Other state jurisdictions have a similar definition of the same underlying principle.
For decades the trust account has been the only option for agents to manage payments generated by their rent roll.
In recent years, however, new property management technology built around direct and instant payments has emerged as a viable and increasingly popular alternative.
Thom Richards, co-founder of Managed App – a pioneer in direct payments for the property management industry – told REB that in addition to offering the surety that employees in the agency cannot access rental and other payments, it also offers flexible payments to landlords.
"After years of building my own agency, I felt that there had to be a viable alternative to running a trust account. It is one of the most onerous tasks associated with property management because there is such significant responsibility around compliance," Mr Richards said.
"It is also cumbersome by nature when it comes to transferring rental income to landlords because of the administration involved for all transactions relating to each property. There is no shortage of landlords who want their money when the rent is paid and just don't understand why there's a delay."
Mr Richards' sentiments were certainly echoed in a recent survey of landlords conducted by Smart Property Investment – a platform for investors and property buyers.
The survey found that almost 70 per cent of landlords want to receive rent immediately from their tenants or to have the flexibility to choose when they are paid.
Only 5 per cent of property investors were happy receiving rent two weeks after it had been paid by tenants.
In 2018, Mr Richards launched Managed App, along with co-founder Nick Bouris. The platform has now transacted nearing one billion dollars and is gaining rapid traction with the industry.
For several years the platform was unique in the sector; however a number of competitors have recently emerged.
Kolmeo and Ailo use similar payments technology and now also offer an alternative to the trust account.
ABOUT THE AUTHOR
---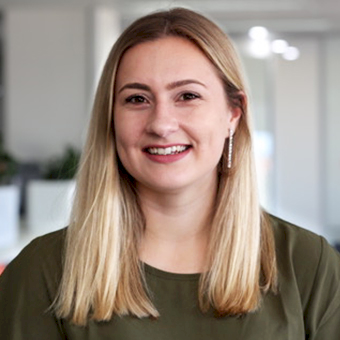 Grace is a journalist across Momentum property and investment brands. Grace joined Momentum Media in 2018, bringing with her a Bachelor of Laws and a Bachelor of Communication (Journalism) from the University of Newcastle. She's passionate about delivering easy to digest information and content relevant to her key audiences and stakeholders.