Losing good people from the property management space is not a trend anyone in the industry should be willing to accept, according to an industry principal.
Josh Symons, real estate industry principal at MRI Software Australia, has expressed that property managers are "critical to keeping trillions of dollars worth of Australian property running and growing in value" – and is calling on the profession to ensure their experiences are not lost to the profession.
In conversation with REB, Mr Symons acknowledged that "with everything we've all just been through, the high churn rate in property management is tough on everyone".
"I'm hearing some people talking about 'the exodus' as if it's the new normal," he stated.
"Losing good people from real estate is not a trend any of us should be willing to accept."
It's why he's urging all property professionals to lend their voices to the Voice of Australian Property Managers 2021 report by 8 November 2021. 
Last time the Voice of the Australian Property Manager research was conducted, back in 2018, Mr Symons said levels of job dissatisfaction were "high". Even pre-pandemic, 12 per cent of property managers were looking to leave the industry, while almost one in three property managers (28 per cent) indicated they would not recommend it as a career to others.
Just one in four were active promoters of the industry at that time.
According to the principal, "to turn it around, and start attracting and retaining property management professionals who are successful, happy and satisfied, we all need to lean in and listen".
He explained that the resource would be used by business owners, agency leaders, people who shape policy and decisions about the future of property management.
"We need it to reflect the lived experiences and views of professionals at the front lines, right now. We need to hear what's working, what's not, and what's possible directly from Australia's property managers."
He noted that to help effect change – and improve the industry and profession, "it's important to speak up and have your say to help inform those decisions and policies".
According to the principal, a future property management professional's role will be wildly different from the tasks they have to dedicate their days to in 2021 – and we already have digital transformation capabilities to thank for that.
"A future property management professional does not spend their days in the mundane, managing maintenance requests and leasing inquiries, pushing buttons and leaving messages with tradies – that's all handled by smart AI solutions," he forecasted.
"Instead, they are free to focus on moving the dial on the relationship with the landlord, growing their investment, working with tenants to become home owners and investors themselves."
He also sees the property manager of the future as "more of an investor or advisor".
"They might have a finance or business background, growing a property portfolio in partnership with a financial advisor."
While the possibilities for value-adding in the property management space are endless, Mr Symons sees digital transformation as already transforming the function of property management and real estate more broadly.
"It's not 'inevitable' at some point in the future; it's actionable now. Artificial Intelligence and machine learning services are everywhere already in how we all work, play, shop and interact with each other in our everyday lives.
In conclusion, "an open and connected AI-led real estate industry means getting professionals off mundane tasks and doing more of what they love, with higher accuracy, more consistency, data-driven insights, and more capacity for growth."
ABOUT THE AUTHOR
---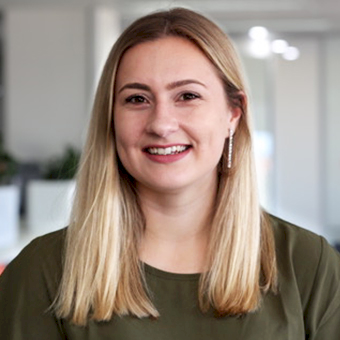 Grace is a journalist across Momentum property and investment brands. Grace joined Momentum Media in 2018, bringing with her a Bachelor of Laws and a Bachelor of Communication (Journalism) from the University of Newcastle. She's passionate about delivering easy to digest information and content relevant to her key audiences and stakeholders.