While tech and innovation have changed the property management game, change management has not necessarily kept up, according to experts in the space.
You're out of free articles for this month
To continue reading the rest of this article, please log in.
Create free account to get unlimited news articles and more!
Appearing on a recent MRI Software webcast, the founder and director of REGROWTH Kylie Walsh; Voice of the Property Manager report author Kylie Davis; property industry analyst for MRI Software in the Asia-Pacific region Josh Symons; and NSW property services commissioner John Minns were reflecting on the findings within the recent Voice of the Property Manager report when they made a number of observations around what change management actually means for the industry.
Broaching the topic, Ms Walsh conceded that while innovation and technology have "dramatically" altered the industry of late, she doesn't know "that we've necessarily supported team members in all areas of real estate business with adjusting to that change".
She acknowledges that the "change management piece probably hasn't been coached enough to people", highlighted by the fact that we're still only using 35 to 40 per cent of tech's capabilities.
She believes that while the industry is doing its best, "there's a few variables in there depending on the business and where people are with resourcing and knowledge that need to change".
It was a sentiment with which Mr Symons agreed.
"When we talk about change management, we can talk about it in the sense of just 'we're changing software from software A to software B', but there's also this fundamental transformation happening in the industry," he said.
That fundamental transformation is the move away from property managers being transactional – people who "collect rent".
Now, property managers are being tasked with "focusing on that human connection and building relationships".
But, that can't be done without technology, as flagged by Ms Davis and proven by the pandemic.
According to her, what we saw during COVID-19 was "those real estate practices that had a good tech stack and that were really comfortable with their technology and understood that their technology was about empowering their people to give better service, we saw those businesses survive and thrive during COVID".
On the other hand, she said agencies "that weren't really up-to-date with their tech scrambling to try and make things work, to get people working from home and playing catch-up".
Two years down the track, Ms Davis said, "what we are seeing is that those businesses that were tech-enabled before COVID, they are now taking an awful lot of market share away from those mainstream businesses".
That reflection on tech led Mr Minns to consider that while approximately 70 per cent of respondents in MRI's Voice of the Property Manager survey were "actually happy with the technology that's operating in their business", just 34 per cent "believe they've got the tools to do their job effectively".
"I actually found that really curious," Mr Minns reflected.
"I think it probably talks to that move from transactional to experiential property management."
Acknowledging that "if technology doesn't engage the front line and it doesn't empower performance, then it's actually a pointless investment", Mr Minns reiterated of the role of change management in the space.
"How do we actually manage change?" he queried.
"How do we give people the opportunity to take those tools [to] operate a better level?"
What follows then is the potential for property managers to better forge out a career path in the space, he concluded, "rather than simply managing 120, 150 emails a day".
ABOUT THE AUTHOR
---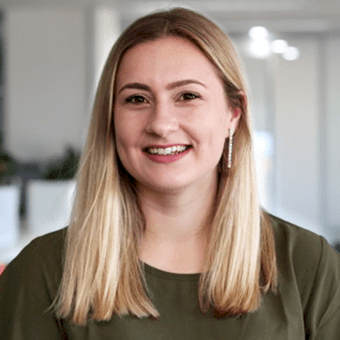 Grace is a journalist across Momentum property and investment brands. Grace joined Momentum Media in 2018, bringing with her a Bachelor of Laws and a Bachelor of Communication (Journalism) from the University of Newcastle. She's passionate about delivering easy to digest information and content relevant to her key audiences and stakeholders.