Real estate network Century 21 has moved to strengthen its support for franchisees and landlords to capitalise on a rapidly strengthening rental market through harnessing leading-edge technology.
Rental markets have entered a strong new phase of growth, with yields rising strongly across both capital cities and regional markets.
According to CoreLogic's Quarterly Rental Review for Q1 2022, the national rental index increased 1 per cent over the month of March 2022 and 2.6 per cent over the March quarter – a 70 basis points increase on the December quarter.
Future growth for rental markets looks strong as Australia emerges from the grips of the pandemic and immigration gathers pace, adding pressure on vacancy rates and potentially driving higher rental values.
To bolster its network at a critical time of growth for property management, Century 21 has completed a major review of the technology available to principals to ensure they get the best possible returns when managing and growing their rent rolls.
After comparing the different propositions in the Australian marketplace, Century 21 has named Managed App as a preferred partner for the network.
Speaking to REB, chief executive James Bell stated that Century 21 franchises are able to choose whatever platform they believe is best suited to the needs of their team and landlords, but that Managed App was the preferred platform for Century 21.
"Property management has evolved considerably over the last decade and technology can play a critical role in empowering property managers to be more effective in their role," Mr Bell told REB.
"Good property managers want to spend their time growing their rent roll and that means winning new leases while retaining existing landlords. If there's tech that can automate manual tasks like monthly funds distributions, maintenance and bill payments, that means more time on high-value relationship building activities," Mr Bell said.
"It's also very compelling when you tell a landlord they can expect their rental income to land in their account as soon as the tenant pays."
Managed App was the pioneer of instant and automated payments across all facets of property management, greatly reducing manual data inputs and reconciliations.
The platform has processed in excess of $1 billion in transactions since its launch three years ago.
Mr Bell said agencies that have access to the latest technology would be best positioned to deliver growth while meeting the evolving needs and expectations of landlords moving forward.
"We've seen a transition across our network from property management to asset management, and this has been driven by the needs and expectations of landlords.
"Our property managers play a critical role in effectively managing and maintaining a significant asset for their clients and to capitalise on this opportunity further you need the right technology.
"Embracing new technology is front and centre to our strategy to support our franchisees. If we can help them achieve scale without adding to head count, we're supporting business growth while also empowering the client experience," he said.
"As a real estate business our proposition is so much stronger to our landlords if we can help them capitalise on their investment potential rather than simply managing mundane and replaceable tasks. There is a real opportunity to help our clients grow the value of their asset through capital improvements and expanding their portfolio.
"We've seen significant growth in many real estate markets over the last few years but many markets have slowed. This is a time that landlords will look to capitalise on their existing investments and undertake improvements to both increase the capital value of their property as well as increasing the yield through the potential to generate a higher rental value.
"There is a critical role for property managers to play in this field, helping generate better returns for their clients and through this increasing the overall value of their rent roll."
ABOUT THE AUTHOR
---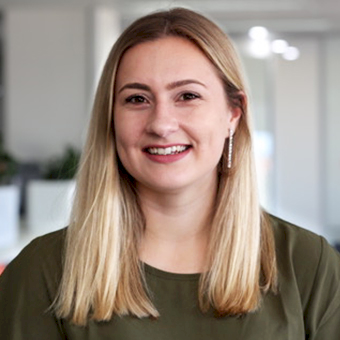 Grace is a journalist across Momentum property and investment brands. Grace joined Momentum Media in 2018, bringing with her a Bachelor of Laws and a Bachelor of Communication (Journalism) from the University of Newcastle. She's passionate about delivering easy to digest information and content relevant to her key audiences and stakeholders.