Business development managers (BDMs) are integral to the success and growth of a real estate office, yet their training is often lacking, according to a network's growth and development manager.
Harriet Saunders acknowledges that while many BDMs are former property managers, or current property managers taking on extra responsibility, the skills they require are more "sales" in nature.
The head of growth and development at Laing+Simmons said BDMs are expected to tread the fine line of using sales skills to sell property management, which has created a disconnect within the role – "a training gap the industry has yet to bridge".
With real estate businesses valued in accordance with their rent roll, Ms Saunders iterated that "BDMs are therefore integral to the strength, success and growth of a real estate office".
Highlighting how BDMs are tasked with selling customers a unique service, she outlined that "they're asking people to commit to a long-term relationship, a relationship that's vastly different to a property sales campaign, but one which actually plays a heightened role when it comes to the value for a business".
"Yet to date, there has been no specialised training for the people in these all-important roles, on whom the success or otherwise of a business depends," she conceded.
Recognising this gap, the growth and development head said Laing+Simmons had seen an opportunity to upskill its workforce in this "integral" space.
The network has revealed its launch this week of a holistic BDM training program and resources, known as "Accelerate BDM".
Calling the program an "industry-first", Laing+Simmons has outlined that the program integrates targeted scripts and dialogues, online modules, role-playing, mentorship, leadership insights, and accountability measures, as well as rewards and recognition initiatives.
For Ms Saunders, the BDM training "is an example of intensifying our focus to alleviate the pain points for real estate businesses and office principals in a way that opens up new opportunities to generate additional value".
By elevating the capacity of BDMs within the network, she believes they can "in turn elevate the businesses they're a part of".
The latest announcement follows the introduction of a new training and support program for Laing+Simmons property managers back in March 2022.
That initiative was in a bid to stem the tide of property managers leaving the profession and provide opportunities for experienced property managers to retrain and upskill.
At that time, Ms Saunders had said that the network was aiming to "equip our investment portfolio managers with important knowledge on positive and negative gearing, depreciation schedules and other complex information, so they gain a more rounded understanding of investment, add additional value to their customers, and have the opportunity to explore a genuine option to advance their career in the field".
ABOUT THE AUTHOR
---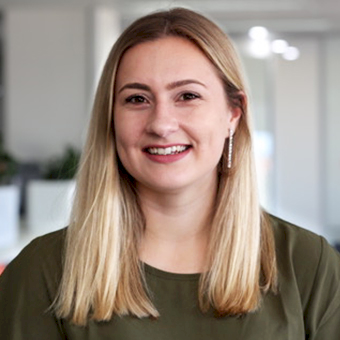 Grace is a journalist across Momentum property and investment brands. Grace joined Momentum Media in 2018, bringing with her a Bachelor of Laws and a Bachelor of Communication (Journalism) from the University of Newcastle. She's passionate about delivering easy to digest information and content relevant to her key audiences and stakeholders.