Why and how I started a personal support team
You're out of free articles for this month
To continue reading the rest of this article, please log in.
Create free account to get unlimited news articles and more!
Blogger: John Paranchi, sales agent, McGrath Estate Agents Hunters Hill
I've been in the industry for 23 years (does that make me a 'veteran'?) and despite all that experience and knowledge, one thing is for sure – I can't do it all.
If you want to drive your business further, you have to accept there just aren't enough hours in the day for you to do everything yourself.
I joined McGrath in 2000 to raise the bar for myself. John McGrath advised me to start a team, but it took me two years to get my head around it.
Hiring a team requires a leap of faith. Your choice is to stay as you are now - in your comfort zone where you dream of greater success - or get the support you need to turn that dream into reality. What's the more exciting path? Just get on with it!
If you don't have the money, take out a loan to cover the first year's wages. Finance is cheap and the debt plus your responsibility to your employee will drive you to prospect harder, and soon enough, you'll be playing at a higher level and you'll never turn back. And yes, people do leave, but you can mitigate that risk by paying your staff well, treating them well and using retention strategies to keep them.
Today, I have a PA and marketing manager, a buyer's agent and an administrator. The pay-off is phenomenal. I'm earning more, despite paying three salaries, and I enjoy my work more because I'm focused on what I'm passionate about – listing and selling. I also have more time for my family. I can go away for a week and the business doesn't miss a beat because I've hired great people (and yes, great people cost more!)
I recommend hiring your first assistant before your business gets really busy. Hiring and training someone takes time and patience and you won't have it when there's multiple listings on your plate.
My first assistant did a bit of admin, a bit of prospecting, a bit of marketing, a bit of everything! That's how you should start. See what they're best at, then create a second role that fills the gaps.
Look for people who are like-minded, with similar values. Tasks can be taught, whereas professionalism, integrity and commitment comes from within.
Give everyone a detailed job description and ideal days/weeks. Your staff has to understand their individual role and how it affects the process, and they need to be meticulous in their execution.
Once you have a great team, you need to retain them. We have a bonus system so that every quarter, my team works together to ensure we hit that target and everyone gets their bonus. It's crucial that your team feels valued and rewarded for their efforts. 
Letting go is critical. You need to delegate, you need to trust the people you've hired. That's tough, but once your team has proven they can do as you ask, you'll find it easy.
How do you find someone? Referral is best. Put the word out among your contacts, including other offices in your group. You're not stealing someone from a colleague. If a great support person is unhappy with another agent, they're going to leave anyway. 
Take a look at this year's REB Top 100 Agents ranking and you'll see that none of the top 10 agents are working on their own. You can't achieve that level of success without a team. If you're ready to back yourself and move forward in your career, start your team now.
ABOUT THE AUTHOR
---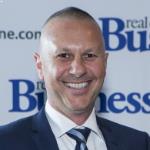 John Paranchi is an award-winning agent at McGrath Estate Agents Hunters Hill with an outstanding track record for exceptional sales results in any market conditions. He was ranked number six in McGrath's 540+ network in 2012 and was ranked number six in the Real Estate Business' Top 100 Agents this year. John was recently named Sales Agent of the Year at the 2013 Australian Real Estate Awards.