Staying accountable
You're out of free articles for this month
To continue reading the rest of this article, please log in.
Create free account to get unlimited news articles and more!
Blogger: John Paranchi, sales agent, McGrath Estate Agents Hunters Hill
Success in real estate sales is next to impossible if you don't have goals and you don't have anything keeping you accountable.
You absolutely cannot rely on yourself to stay accountable – it's just too easy to come up with excuses.
The New Year is just around the corner so now is the time to start planning. Agents in Sydney are still on the maniac side of busy, but in other markets things have slowed down, so be grateful for the quiet time and get started now.
First up, you need a plan – not a few bullets on a post-it note, I mean a formal document where all your goals are listed along with the KPIs to achieve them. Start with your personal income target and work backwards to determine a formula to achieve it.
All in all, you need to set targets for the following:
The number of prospecting calls you need to do every day

The number of door-knocks you need to do every week

The number of leads you need to generate per week

The number of appraisals you need to do per month

The number of sales you need to do every month
These numbers are different for everyone, so set your own pace – and always aim a bit higher than you think you're able to achieve.
Once you have your targets or goals in place, you need someone to be accountable to. Not your partner or a friend; choose a like-minded businessperson who won't put up with your excuses.
The best option is a professional coach, but a good alternative is a buddy – ideally someone outside your office, as colleagues will be more lenient.
One of the best decisions I ever made was getting a coach. In fact, I have two. One coach is for real estate stuff and one coach is for mindset stuff.
I have a weekly face-to-face session with my real estate coach where we go through all my numbers to ensure I'm on track. It's important to have face time; over the phone isn't good enough, you need to sit down in front of someone you respect.
If weekly catch-ups aren't enough to keep you on track, ask if you can text them every day with the number of calls you've made, the number of appraisals you've organised etc.
Next, you've got to line up some punishment if you don't stick to it. Having to write a $500 cheque to your competitor is a good one – anything that hurts! If you don't have real repercussions for failing your KPIs, you're more likely to weasel your way out of them.
A good trick is to do your prospecting calls first thing in the morning. Lock yourself in a room, away from all the distractions and get it done. Create a list of names and numbers the night before so you're 100 per cent prepared the next day.
We work in a seriously fast-paced business and there's no time to sit around and ponder where the next listing is coming from. A formal plan on paper means you always have a guide on what needs to be done next. You don't need to think, you just need to 'do'.
Real estate is a numbers game. If you make a certain amount of calls, knock on a certain amount of doors, do a certain amount of personal marketing, you can rely on a certain number of listings. Take the time now to work out the best formula for your 2014 goals and how best to keep yourself accountable. If you do this, everything else will fall into place.
ABOUT THE AUTHOR
---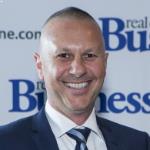 John Paranchi is an award-winning agent at McGrath Estate Agents Hunters Hill with an outstanding track record for exceptional sales results in any market conditions. He was ranked number six in McGrath's 540+ network in 2012 and was ranked number six in the Real Estate Business' Top 100 Agents this year. John was recently named Sales Agent of the Year at the 2013 Australian Real Estate Awards.