In the fashion and entertainment industries, youth is a prized commodity – but in real estate, having a few years under your belt is highly valued by vendors, who are looking for wisdom and experience to sell their property.
You're out of free articles for this month
To continue reading the rest of this article, please log in.
Create free account to get unlimited news articles and more!
In my early twenties, I became one of the youngest partners in the Hocking Stuart network, co-opening the group's 50th office in Melbourne's Doncaster in 2013.
This has had its challenges and benefits.

With my weekends often consumed with auctions, meetings and open-for-inspections, I sacrificed what many recognise as the highlights of being in your twenties. But what I have gained is credibility within the industry and a career headstart.
The greatest challenge, however, has without a doubt been overcoming age prejudice in an industry where experience and knowledge are the most valued attributes.
To succeed in real estate at a young age, it's vital to earn a client's trust by proving you're genuine and that you are willing to go that extra mile to meet their needs. More importantly, they want to be confident you have the skills and knowledge necessary to sell their property for a great price. If you can prove that, your age becomes irrelevant.
So, how do you go about demonstrating your ability and breaking through the age barrier?
The proof is in the pudding
Nothing speaks louder than cold, hard evidence. Ensure facts and figures detailing past results are a prominent part of your listing presentations and all dealings with prospective clients.
Knowing your numbers is also vital for demonstrating local market expertise. Show vendors what similar properties are selling for and educate them about what to expect for their property. You don't want a client to be under any illusions about what their home is worth, only to be disappointed. More than anything, a client will value an informed opinion based on fact.
Word of mouth
When pitching for listings, I invite prospective clients to speak with past vendors. It's easy for me to talk about why I should be hired, but it's far more credible for a past client to speak about their positive experience with me. 
Another way I show vendors how I work is to upload auction videos to YouTube. This is a chance for them to see my auctioning style, as well as showing my capabilities as an agent.
Master the basics
Despite advances in technology, the phone is still your most important tool when starting out. Networking and cold-calling is one of the most daunting tasks for many young agents, but there is no way around it. Make it part of your daily routine to call prospects and build on existing relationships.
If there is no rapport, a prospective client has no reason to choose you over someone charging a lower fee. Stick with it and before long, you'll actually start to enjoy sales calls.
And don't be afraid to work hard. Real estate is a lifestyle, but one that can bring great rewards if you do the hard yards early. That means being available for your clients when they need you – including answering your phone on a Sunday.
Never stop learning
When starting out, you're bound to make mistakes. The key is to understand where you went wrong so you can improve and succeed the next time around. Be open to learning and adapting.
If there is a particular aspect of the job you're having trouble with, speak to your mentor and colleagues to get their advice. A fresh perspective or tactic might leave you with a new sense of confidence. Consider undertaking a short course or training program to build your credentials. It shows you're committed to your profession.
If you're just starting out in real estate, the beauty of the profession is that the sky is the limit. While age may be valued, it's no barrier if you take the right steps. Work hard, do your research, be open to learning, and above all, learn how to sell yourself.
ABOUT THE AUTHOR
---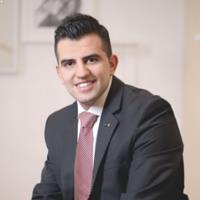 A finalist in the 2012 REIV awards in the Novice Auctioneer category ,Stasi works as the managing partner & auctioneer of hockingstuart Doncaster