Buyers are hungry for big, beautiful images, and fast, easily-digested information. Buyer behaviour has changed enormously - we all know that.
You're out of free articles for this month
To continue reading the rest of this article, please log in.
Create free account to get unlimited news articles and more!
For us, the purpose of having press advertising has changed; it is there to capture the casual looker. It is no longer focused on attracting the hard-core house hunter.This is why newspapers all over the world are dramatically changing their formats and their mix between press and online.
Those in the know understand the changing behaviours, and research supports the appetite for fast consumption of information followed up with effortless access to detail-rich online images.
Our results are undeniable. We have reinvented and modernised old-fashioned paper advertising. How? Let me explain. This spring, Toop & Toop launched the first serious redesign to our flagship weekend Advertiser look in more than two decades.
Edgy, innovative and well researched, this design is the first new look in real estate press advertising since Toop & Toop introduced colour to South Australian real estate pages in the mid-'90s. For more than two decades, we have enjoyed the reputation of having the best-looking ads in the press, and to be honest, we felt our competitors had caught up in recent months. We take responsibility for this – our focus had moved to online marketing.
So, you may be scratching your heads and wondering why on Earth we have launched an entirely new-look press format when online is the future of selling real estate. Why now, especially when the internet is so powerful? 
Here's why... Toop & Toop are global leaders with our online property marketing, videos, ToopAir, Toop.TV, and databases, yet we chose to invest heavily in print advertising because it still has a critical role to play in a sale that online can't fill.
The answers become clear when you study the buying patterns of the actual buyers we deal with in our market. Buyers can be categorised into two primary groups: 1) intentional buyers, and 2) unintentional buyers.
The intentional buyer will actively search for property. This category will typically search agency and industry websites, register as a buyer with agents and will often drive the streets looking for sign boards in search of their new home.
Print advertising is seen as an excellent filter in the online proliferation of property. The online space can be overwhelming and confusing.
We are all about sparking interest for unintentional buyers with the paper and our weekly magazine. Unintentional buyers are typically people with changing needs, but that haven't been surfing the web, nor are they actively looking. Often, this category had no intention to move until something sparked that interest. Press advertising has maximum ability to do this.
Genevieve Toop initiated the new look and drove this with Matt Kenny, who heads our advertising studio. They consulted with external experts, The Advertiser and focus groups, and the layout was built on the 'new-age' way readers engage with the paper.
I love it! Bold? Yes. Strategic? Yes. Like any industry, when you do something different that is challenging the norm, your competitors vocalise about it. It seems our industry is no different, and they have been very negatively preaching about it. But we know the research and logic behind it, and are pumped over the sales results we are getting from its power.
It took us to the number-one position in The Advertiser real estate lift-out, and has been a hit.
Competitors: instead of gossiping ignorantly about our marketing, why not concentrate on your own? The way buyers behave has and is changing fast, and we need to move with it, not ignore it.
ABOUT THE AUTHOR
---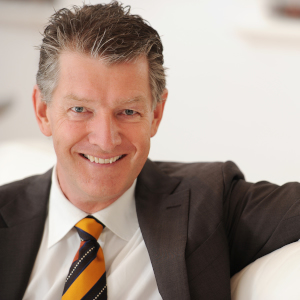 In 1985, Anthony Toop launched a real estate company from his home in Toorak Gardens with his wife, Sylvia. From the outset, Anthony and Sylvia were determined to create the best real estate company in the country, and to set the industry standard.
Over the years Toop&Toop have set the standards not only in the real estate industry but have also been recognised outside the industry for their customer service, quality assurance and business excellence. Toop&Toop have won a host of high-profile awards including Telstra Business Awards and Customer Service Institute of Australia Awards, and were the first real estate agency in the country to achieve certification to Quality Service ISO9000 standard.