So, you've decided to record a video testimonial but don't know what equipment to use? Let me help you out.
You're out of free articles for this month
To continue reading the rest of this article, please log in.
Create free account to get unlimited news articles and more!
As I explained in my previous blog, video testimonials are a powerful tool for increasing sales – and are easier to acquire than you think.
My suggestion for recording video testimonials is to keep the equipment simple and get started as quickly as you can.
At Latte Property, we started out with an iPhone, an $11 iPhone tripod mounting bracket and a $30 tripod. This worked very well, unless our talent was standing more than a metre away, or was softly spoken, or there was a lot of background noise. In those cases, the audio wasn't good enough. We solved that problem with a quick, cheap fix, buying a $21 lapel microphone and $8 extension cord from Jaycar Electronics. The cord and mic simply plug into the socket on your iPhone where your earphones plug in. You could, of course, use any smartphone that has a reasonable camera in it, provided you can also purchase a tripod mounting bracket and lapel mic for it.
Whilst a cheap tripod does the job, I would recommend spending $70-$150 to get more height and stability. You will need the extra height for your taller clients, as it is important that your camera lens is at same height as their eyes.
We have since progressed to a fairly elaborate kit comprising a Nikon DSLR with a special 50mm lens that blurs the background behind your talent. We also use an external Tascam audio recorder in addition to three professional soft box lights on tripods.
The video quality certainly improved when we upgraded to this kit, but the ease of use went out the window!
Was it worth the extra cost? We record a lot of educational videos relating to property investing, so we feel the extra cost was justified. However, if you just want to capture client testimonials or you are not tech savvy, then I would say stick to your smartphone.
Another benefit we have found in using a smartphone instead of a professional DSLR camera and professional lights is that it makes the talent more relaxed. It seems that the more time taken to set up fancy equipment, the more time it gives the talent to get nervous. That nervousness will show on the video, and in some cases they will get so nervous that they will decide against recording.
So the takeaway is: stick with a simple setup using your smartphone and just get started!
Quality of videos
It may come as a surprise, but it is actually more important to have quality audio in your videos than it is to have high-quality video footage. So don't get too concerned about spending loads of time getting set up perfectly for a Hollywood-style production with the exact, right background.
In many cases, if you make it look too professional, your video will become less effective, as people are less inclined to believe your content. Just do your best to have adequate lighting falling on your talent's face and avoid recording against windows that have bright light behind your talent.
Remember to find ways to capture good, clean audio. Use a lapel mic wired back to your camera, or, if your camera doesn't have an audio jack, you can plug the lapel mic into a smartphone and use the audio recorder function.
Having a separate audio file to your video can cause issues in your post-production editing, but we have found Final Cut Pro to be excellent. It also synchronises audio so it is in sync with your talent's lip movements.
Next month's blog will discuss how to edit and share video testimonials.
ABOUT THE AUTHOR
---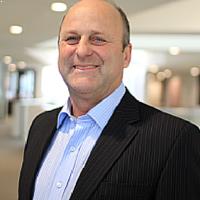 Darryl Simms specialises in helping individuals invest in property for less than a latte a day, reduce their tax and create enjoyable lifestyles.
As the founder of Latte Property, Darryl willingly shares his extensive knowledge built up over the last 25 years to help clients create wealth through property investment.
Latte Property has a large following of successful property investors who have enjoyed professional guidance in the purchase of quality new apartments, new townhouses and new homes.
Darryl is also the author of 50 Must Know Property Investing Tips and is currently writing his next property investment publication.