The kitchen is the heart of any home, making it one of the most important spaces that needs to look inviting during a selling campaign.
You're out of free articles for this month
To continue reading the rest of this article, please log in.
Create free account to get unlimited news articles and more!
The kitchen is no longer a space used only for cooking. It is the hub of the home, the new room everyone lives in.
If a kitchen looks like it is run-down and needs a lot of work, this is a huge disincentive for potential buyers. For most, the thought of renovating a kitchen rings too many alarm bells – money, time, stress! It's a valuable asset to be able to market a property with a kitchen that's appealing, functional, clean and flexible, yet with the purchaser able to inject their personality into the space.
Look at the state of the kitchen in relation to the rest of the home. Does it work as part of the larger residence or does it need upgrading to provide a central focus? This may seem difficult to achieve in small, older-style houses where the kitchen and living areas are separate, but a clever designer may look at a cost-effective reconfiguration to make a big difference and create a space that changes the whole feel of the home.
Know your target market and assess if the kitchen is appropriate in size, aesthetics, age, condition and functionality for that  market. If you need help assessing the space, call in the experts. Ask a designer to have a look at the kitchen and come up with solutions. Does it just need styling, a good clean, minor cosmetic touch-ups or a full overhaul?
If a kitchen has a very strong, specific character it may be worth toning it down for the sales market. A coat of white paint over a darker or vibrant hue may be all that is needed.
Here are four other things agents need to consider when it comes to getting kitchens in order.
1. Repairs
Loose handles, drawers that don't align or a dripping tap all show a purchaser that the property hasn't been cared for. "What else is wrong?", they may wonder. A designer may look at reusing existing joinery carcasses if they're still in good condition while replacing benchtops, joinery doors, drawer fronts and the splashbacks. Updating old and outdated appliances may be a simple and smart move that refreshes a tired kitchen.
2. Lighting
Consider if the lighting is adequate. Poor lighting can make an otherwise well-designed space look dull. The right lighting can completely transform the look and size of your kitchen. The addition of task lighting updates the look and creates warmth to make a kitchen feel inviting.
3. Storage
Storage and organisation solutions are essential to any good kitchen. It can be as easy providing wall-mounted hooks or spice racks in cupboards, or you may need to extend cupboards to the ceiling to provide more space. If you do not update the storage, if nothing else – get rid of the clutter! Removing clutter on benchtops, open shelves and in cupboards and drawers creates a larger space. You never want to highlight a lack of storage. You want the kitchen to feel neat and ordered.
4. Cleanliness
Sticky appliances are unattractive. Ensure ovens, exhaust fans, dishwashers and marks on walls have all been cleaned. Cutlery in drawers should be clean and tidy, and crockery should be neatly displayed in the cupboards. Don't forget the floors, either. Kitchens being a high-traffic area, you will need to look at whether they need a professional clean and refinish.
Sometimes a kitchen is beyond repair. You may need to advise your seller that they should replace the kitchen before putting the home on the market. This is where your interior designer will be a great help. Discuss it with them and they will advise the most cost-effective way to create a win-win situation for all concerned.
ABOUT THE AUTHOR
---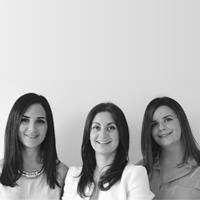 Vokaberg Design is an interior design trio committed to providing fresh and innovative design solutions within the residential and commercial design space.
Lisa Falvo, Jessica Heneka and Debbie Freedberg developed a strong collaborative design bond while working together at one of Sydney's leading interior design companies, joining together in 2013 to form Vokaberg Design.
All trained in the field of interior design, Lisa, Jessica and Debbie have extensive national and international experience in private high-end residential, residential developments, commercial design and hotel environments that collectively spans over 20 years.
At Vokaberg Design, the trio brings together their individual design strengths, years of industry expertise and eye for detail to collaborate in creating beautiful interiors specifically tailored to clients.