The criminal characters in the TV series Underbelly were often looking for locations to dispose of dead bodies – but there is no better place to hide unwanted corpses than on page two and beyond of Google search results. No one ever looks there.
Page one of the Google search results is the place to be. Google search is the main part of any lead acquisition strategy, with 86 per cent of all commercial property seekers starting their search on Google. Most of us consider commercial property seeking an infrequent chore, unlike residential property portals, which are a source of entertainment.
In the digital online world, there are several choices when it comes to advertising a property. The most straightforward is Google Adwords. You pay Google money each time someone clicks on your search result ad. Google places your ad at the top of the page (if you're clever or cashed up) or down the right-hand side, which Google insightfully calls "the gutter". As long as you keep paying Google, property-seekers will see your ad.
It is technically possible for an individual real estate agent to appear in a prominent position with unpaid Google search results. In practice, not many have achieved satisfactory results with these organic search results. So the next best alternative is to use one of the real estate property portals that do feature on page one of the search results. The media giants get large traffic volume while the up-and-coming portals get less, although it's nevertheless a significant amount of web traffic.
Choices
The challenge is to evaluate the cost of each of the options to get your listings noticed.
1. Google Adwords is expensive but is exclusively for your ads, so competitors don't get a look in. The branding aspect of Adwords is that all search results page views display your brand name at no cost. You only pay for clicks.
2. The big established property portals do most of the heavy lifting for lead generation. However, your listings are displayed alongside your competitors'.
3. Similarly, the challenger portals represent good value for money for a significant incremental increase in lead generation that make agents look hard-working in the eyes of their vendors.
Google Adwords
For both residential and commercial the same principal applies. Google only charges when property seekers click on a paid ad.
For a typical search query, for example 'Commercial property for lease in Sydney', Google charges are based on an auctioning arrangement. In that recent commercial property example, Google charged $5.73 per click. Based on our own commercialpropertyguide.com.au experience, about one in 20 property seekers will contact the listing agent either by phone or by email, so a $5.73 click rate costs $114 to generate an agent enquiry via Google Adwords. From there, agents tell us that it takes about 20 enquiries to secure a lease or sale. So the Google Adword cost of a lease or sale is $2,280. This would not be a problem for many high-value leases or sales.
However, there are suburbs where the transaction values are low, the time on the market long and the vendor's reluctance to invest in an expensive advertising campaign is restricted.
From a real estate agent's perspective, a recent review of results for common search queries shows only a small number of real estate agencies using Adwords.
Media giants' property portals
If we compare the Google Adwords example above with the realcommercial.com.au costs for getting a listing noticed by property seekers, we arrive at the following calculation.
The lowest-cost suburbs with a lease ad boosted to the maximum prominence, called Elite Plus, costs $1,225 per month for a minimum of three months. Realcommercial's annual report states it has 156,000 unique visitors each month (of that number, about two thirds are lease enquiries). So in round numbers that is about 13,000 Sydney industrial lease seeking visits.
So, on average, each of the industrial suburbs receive two per cent of the visits. Sharing the visits evenly between the 10 Elite Plus listings on the Realcommercial first search results page will cost $47 for each listing view.
However, there are no refunds on the 90-day campaign, so the sale/lease costs the full campaign amount of $3,675. This is more than the seldom-used Google Adwords – fortunately it's OPM (other people's money).
Market challenger commercial property portals
If we now extend our comparison to a lower-traffic portal such as commercialpropertyguide.com.au we can see the same sales funnel that converts to agent leases and sales. For this example, the most prominent listings are called Elite and cost $90 for three months or $30 per month. The commercialpropertyguide.com.au website has about one sixth of the traffic of the market leader. The same breakdown as the media giants' enquiries for each suburb gives us a cost of $6 for each listing view. So the challenger portal costs $120 on average for a sale or lease.
In summary
1. A Google Adwords strategy is not for everyone – especially for low-value and slow-moving listings.
2. Realcommercial.com.au depth listings require the agent to sell the extra campaign cost to the vendor. There is a simple return-on-investment calculation that can take the emotion out of the decision. The minimum cost for an Elite Plus listing is $3,675 to ensure first-page prominence.
3. Commercialpropertyguide.com.au gives agents a way to differentiate their vendor's campaigns from their competitors. The low-cost incremental enquiry solution of the challenger property portals represent good value for generating additional low-cost leads.
In the main
Only franchise groups and the largest independents use Google Adwords
The media giants generate volume at a high price
Using challenger portals shows vendors that their listing agent is working hard to get every possible enquiry
We can conclude that each of the options adds value. The old answers do not work any more. The combination that works for each situation requires skilful knowledge of the market.
ABOUT THE AUTHOR
---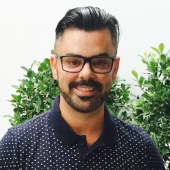 Simon Rose is chief executive of Commercial Property Guide, an independent commercial property portal.
Rose and his father, Stephen, originally acquired Commercial Property Guide as a CRM system, rebuilding it and marketing this to the Victorian commercial real estate industry. With a significant amount of listings acquired through their work with CRM agents, the Roses identified a gap in the market and launched Commercial Property Guide the portal.
Rose is also CEO of Rose Technology, a group of companies delivering digital communications solutions, whether it be online media, email marketing, catalogue management, call centre technology or software. Rose began in the dot-com industry in 1999 with carsales.com.au as the national dealer of sales.