I'm often asked by my team "what is the right price for this property?" To which I respond "for who?"
Blogger: Sam Nokes, head of department - property management at Biggin & Scott Prahran

There are many interested parties when it comes to price, and the most important of those is your client. However, sometimes the hunt for the big-bucks can cause your landlord more harm than gain.
So how do you encourage your landlord to set a reasonable price?
I find the best way is with comparable properties. The final price is always a reflection of what the market is willing to pay. So the best way to get an indication of this is to look at what people are paying for similar properties in the area.
Clearly this is not the revelation of the century. But it is the process that you go through that can make this the most effective tool you have.
Search with the right people – use a reputable source to get your comparables. Your local REI and RP Data are some of the best. Google might lead you astray.
Search for the right properties – There is no use comparing a two bed to a three, or a house to an apartment. Save yourself the time by setting an intelligent criterion. If you aren't sure what the property is, go look at it.
Keep it local – There are several distinct pockets in my core suburb, and all are like chalk and cheese. Make sure the properties you are comparing are within a few streets from each other. And watch out for 'Golden Mile' streets that tenants pay more for, and equally the streets with the scummy commission flats that they will pay less for.
Know your styles – That isn't a fashion tip, and my staff would dispute if I could give you one anyway. Different housing styles, especially in our core market, demand very different rental figures. One day the poo brown 1980's homes might come back into vogue, but for now a well maintained Art Deco is going to get a lot more.
On the market and Let – Just because it is being advertised at $750 doesn't mean they'll get it. It is a good idea to have a mix of both properties that you will be in competition with, as well as properties that have already been let.
What was it before – If the property has ever been leased out before, what did they get? What work have they done since last time? And how was the market performed? If it was several years ago, look at median growth (in the back of your RPM magazine) and work out where it should have grown to.
Last resort is per cent return – If it is a truly unique property, or the first of its kind to be leased in your area, you can calculate an indicative rent by using the average rental return percentage for your area. Total sale price x percentage return = annual rent.
Setting the rent this way uses fact, and not just your opinion. Even with this system, sometimes landlords will surprise you with the rent they want, and that is ok. The important thing is that you show them the facts, and then work your arse off to get it for them.
---
About Sam Nokes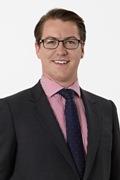 Sam Nokes is fast becoming one of Victorias most prominent estate agents. As a self confessed "Property Management Nerd", Sam's dedication to the profession and constant pursuit of excellence have seen him enter the role of department head at 21, and rise to the head of property management for Biggin & Scott Prahran at only 25. Sam has won many awards for his work, and is also a member of the REIV Property Management Committee and Chairperson of the REIV Young Agents Committee.
Make sure you never miss an episode by subscribing to us now on iTunes
And dont't forget to leave REB a review!

Listen to other installment of the Real Estate Business Podcast