Why does it seem that so many property managers hate sales agents, and so many sales agents hate property managers?
I share my opinion (and solution) here.
Sales vs rentals: the great property industry debate
You've heard it before:
"All sales agents are 'up themselves'…"
"All property managers are young bimbos…"
Right?... WRONG!
Why?
While the two statements above aren't actually correct, they do reflect common perceptions in the real estate world. Perceptions I'm uncomfortable with. Perceptions you should be uncomfortable with too.
Why does it seem that so many property managers hate sales agents, and so many sales agents hate property managers?
I would ask: is it because the sales agents and property managers haven't taken the time to work as a team and to understand what one another does?
I know I've certainly been guilty of falling into that trap.
Perceptions of a property manager
Let me be completely honest with you: I used to think sales was easy.
I mean, you just list the property, and then prospective buyers call you, right? After all – doesn't everyone want to buy a house? You don't actually have to work to find the buyers, right?
Already you'll notice the naivety, but I'm not going lie; it didn't end there.
I figured that once that was done, all that was left to do was hold an open home, give the buyer a pre-prepared "offer" sheet, have your administrator draw up the contract, present the offer to the seller, negotiate a little (but not too much), arrange access for the building and pest inspection, and viola, done!
Oh, how I was wrong.
Perceptions of a sales agent
My guess is that sales agents have a similar perception of property managers to the perception many of my friends have. They think that a property manager collects rent (which is a largely automatic process), arranges maintenance (when it suits us and if we can be bothered), drinks an obscene amount of coffee, and drives around all day. They think it's an easy, cruisy job.
But that's a far cry from what we actually do as property managers.
How I've changed
I've long since learned that property sales involves rather more effort and hard work than I originally thought.
I've learnt that good sales agents go above and beyond for their clients. They market the property exceptionally well, showing the property several times for private inspections, as well as holding several open homes. They are constantly on the phone communicating every single detail with both their clients and potential buyers. And they work huge hours.
For a property manager like me, discovering this helped me develop a whole new appreciation and respect for sales agents. This appreciation and respect can go both ways when a sales agent chooses to learn more about property management. 
But my change of heart – and understanding – would never have happened if I hadn't taken the time to learn.
Which is why I'm issuing you with a simple challenge: It's time to get to know the "other" group.
The property office challenge
Property managers, instead of staying on your side of the office, I encourage you to visit your peers on the sales side. Take the sales agents out for coffee and get to know how they run their side of the business. Building a relationship like this will help you understand what they do. You may be surprised by the valuable insights or information the sales agents can offer you.
Once you've learnt about them, explain what it is that you do as a property manager.
Encouraging a dialogue like this may help you come up with more ideas of how you can perform more efficiently and creatively, and maybe even have more fun with your job. By slowing down to stop and explain what you do, it can also enable you to think more clearly about your role as a property manager. And as an added bonus, fostering a relationship with the sales agents can also help generate lots of leads for prospective clients.
Sales agents – the challenge applies to you too. Take the property managers out for coffee and get to know how they run their side of the business. Then, explain what you do. You'll be surprised by the insights you can receive from this simple act. And you can also enjoy all the benefits I described above, because they apply to you too.
Property management is extremely stressful. So is property sales.
That's why it's time for us to all start working as a team and support each other.
So go on – give the property office challenge a go. You never know what might happen!
ABOUT THE AUTHOR
---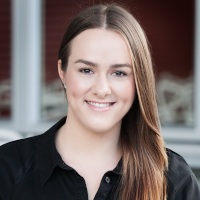 Jess Mazzocato began working in property management in 2008. At just 20 years old Jess was the senior property manager and department manager for a large franchise company.
In March 2014 Jess started a property management specialist company and grew her business from zero to 403 properties before merging her business with an industry leader to create Edge Property Agents in February 2016.
Jess has a strong belief in customer service, education and communication. She works hard to make the property management sector be seen as a professional force in its own right, eliminating the outdated view that PM is an add-on to a real estate sales office.
Make sure you never miss an episode by subscribing to us now on iTunes
And dont't forget to leave REB a review!

Listen to other installment of the Real Estate Business Podcast