Real estate agents know better than most that time kills deals, yet many have not addressed their biggest barrier to speed, writes Brad Newton.
The Australian real estate industry is set for a shake-up and it may come sooner than you think. As momentum gathers around same-day home loans and Macquarie Bank forges ahead with its AuctionPay app, we can start to see the massive opportunities that digital will bring to the property market – as well as the threats associated with failing to take action.
Nowhere is this revolution more evident than in the US where already 80 per cent of real estate contracts are signed electronically.
Significantly, disruptors like Auction.com are completely transforming the way properties are bought and sold. By taking auctions 100 per cent digital, the online marketplace empowers clients to bid on, buy and sell properties anywhere, anytime, on any device. Did you ever imagine a world where buying a property could be as easy as ordering a pizza?
Maybe that's a bit farfetched, but still it's this level of convenience that property buyers and sellers now expect, and the field is wide open to whoever can deliver it to Australia first.
If real estate agents want to compete, it's time to digitise the old and tired processes holding them back. One thing is certain – doing nothing is no longer an option.
Are we missing the sense of urgency to adapt?
You have to wonder if the message is getting through. It appears Australian real estate agents are comfortable settling for last place in the digital race even if their customers are not.
While mortgage brokers move online and digital conveyancing becomes the norm, many agents remain heavily reliant on paper, seemingly satisfied with the need to print, post, sign, scan and file contracts on a daily basis.
Despite the hard work of smart and dedicated teams, errors are made, deadlines missed and deals slip through the cracks. If these agents don't accept the urgency to adapt, they'll soon be sitting by their fax machines in the same way slow-to-react taxi drivers are left waiting kerbside watching Ubers fly by.
There's a way to avoid the unfolding of this whole scene and that's by taking stock of the most painful parts of the property buying process and systematically addressing them one by one.
Every last process that requires a 24-hour plus turnaround time is ripe for efficiency review. Getting rid of paper is an obvious one. Digital agreements speed up deals and create a better experience for home buyers and sellers – that's a fact.
And clients are more satisfied because they can sign contracts and transact with agents from anywhere and on any device. I personally couldn't care less if I never saw another 'sign here' sticky for the rest of my life.
Digital signatures: from nice-to-have to must-have
When city buses stopped accepting paper tickets, there was a transition period of paper and tap card side by side, until ultimately tap cards were the only acceptable currency. Those who failed to purchase and register a card during that 'period of grace' found themselves scrambling to get their affairs in order for the morning commute. Meanwhile, others sailed past them and onto their transport, with zero stress. This feels the same.
The convenience of digitally signing is no longer a differentiator for real estate agents, but a must-have, as consumers look to services that are mobile first. For the entire ecosystem of property to evolve, the final link to home buyers and sellers must be digitised.
If real estate firms don't take up this opportunity, you can expect that outside forces will. These disruptors could act fast to take over the agent and customer relationship and leave traditional firms struggling to remain relevant.
But even without this writing on the wall, real estate agents are missing out on the chance to make their lives easier and eliminate the pain of the paperwork they deal with every day.
Those at the pointy end of change
Here's what they stand to gain. By going digital, firms can stop all the printing, faxing, posting and re-keying errors. They can improve productivity and reduce cost.
Domain, for example, caught the first wave of digitisation, taking advantage of mobile technology to replace clipboards with social media style mobile 'check-ins' that give property buyers convenience and agents a wealth of information about prospective buyers before they walk up the path. By using DocuSign to do away with signatures, Domain has reduced contract handling times by over 90 per cent and experienced a 70 per cent reduction in contract re-work time.
Of course, no one wants to be disrupted or held back by process. Many real estate firms are seeking to do things differently, and the Real Estate Institute of Australia (REIA) is behind them all the way, championing digital change as a necessary revolution for the industry.
Working with Dynamic Methods, the REIA has digitised dozens of standard real estate documents like tenancy agreements and contracts of sale to date. Members can download these documents and customise them as needed. It's a quick and easy way for them to start digitising business.
DocuSign is now partnering with the REIA to embed e-signature capability into these documents. Together, we want to help more firms transact digitally and become a part of the disruption afoot, instead of caught in the wake of it.
ABOUT THE AUTHOR
---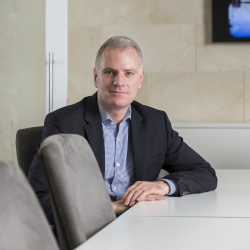 Brad Newton is the vice president of Asia Pacific for DocuSign.