One of the frustrations of being a real estate agent is having to cope with hot buyers who suddenly turn cold. However, there is a way you can get around this, writes Sally Tindall of RateCity.
They're keen to move, they've got money to spend and they're willing to meet your vendor's asking price, but out of the blue, they ring you with some bad news.
"Unfortunately, we're no longer in a position to buy. We still love your listing, but we're struggling to sell our place and we have to sell before we can buy."
Your deal is dead. Or is it?
One possible way agents can get around this problem is by educating their buyers about bridging finance.
The ins and outs of bridging finance
The big four banks offer bridging loans, as do most well-known lenders, although some smaller lenders don't.
Bridging loans are specialist products designed to help people move from one property to another. They provide a cash injection that allows consumers to buy first and sell later.
Loans are interest-only, but are harder to access than traditional interest-only loans because they have stricter LVR requirements. Also, they typically have to be repaid within six to 12 months.
One downside of bridging finance is that it leaves buyers with two loans – their original mortgage and the bridging mortgage.
Another downside is that buyers have to pay interest-only rates, which are more expensive than principal and interest rates.
According to a recent analysis of all the loan products on RateCity, the average interest-only loan costs an extra 30 basis points for owner-occupiers and an extra 24 basis points for investors.
The potential benefits of bridging finance
However, there are also several different ways buyers can benefit from bridging loans:
Snap up their dream home instead of losing it to somebody else;
Save thousands of dollars if they're buying in a rising market; and
Move on with their life if they have to relocate for work or ahead of a new school year.
Bridging finance can offer another benefit – it can help buyers avoid the potential hassles of selling first and buying later. For some buyers, there can be a gap of several months between the two transactions, forcing them to move into short-term, and expensive, rental accommodation and then move again into their new home.
The next time one of your hot buyers turns cold because they feel they have to sell first, it's worth giving them the contact details of a trusted mortgage broker.
It's not your job to spruik bridging finance, just to know enough about it to steer buyers in the right direction.
Like all financial products, bridging loans won't suit everyone. For example, some buyers might be better off trying to negotiate an extended settlement with your vendor. That way, they'll have more time to sell their own property.
Still, some buyers find bridging loans very useful, so they're something you should understand. If your buyer does end up taking out a bridging loan, you will not only earn their gratitude, you'll also resurrect a deal that looked dead.
ABOUT THE AUTHOR
---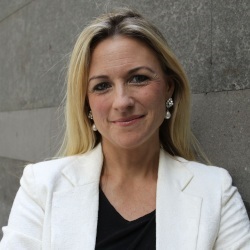 Sally manages the RateCity editorial team, producing consumer-focused insights into personal finance and cost of living issues.
She is passionate about helping everyday Australians get access to affordable finance options without falling victim to marketing ploys.
Sally is experienced in finance issues, having worked for the Institute of Chartered Accountants, the Prime Minister of Australia Julia Gillard, NSW Minister for Finance and Accenture Consulting in the United Kingdom. 
At the federal government, Sally worked on three federal budgets targeted at easing the cost of living, providing greater access to affordable education and providing targeted financial assistance to in-need families. She also participated at multinational finance forums such as the G20 and APEC.
She is a regular contributor to news outlets including Fairfax, News Ltd, Money Magazine, Yahoo, Ninemsn, and a regular commentator on television and radio about personal finance matters.