Agents need to remember that potential buyers and sellers are people, too — and ensure they have the skills to manage expectations accordingly, a leading industry figure has warned.
Speaking to 2,500 in-person guests and a further 500 virtual attendees at the Gold Coast Convention and Exhibition Centre as part of the AREC 2021 line-up, McGrath's founder and executive director, John McGrath, emphasised that real estate agents working in this day and age must adopt radical transparency and be authentic.
He's urged agents to "look after people — not like they are buyers, sellers, database entries — but like they are human beings".
Bringing up an anecdote where a family was priced out of a home despite being told by the agent it would go for around $900,000 — and the first bid on auction day was over $1 million — Mr McGrath said: "You have no right to screw people around like that ever, anywhere, at any time.
"Tell the damn truth!
"You have no right to mis-claim, you have no right to mislead."
That truth should also extend to the vendor side, the director continued.
While acknowledging that, sometimes, people do mistakes, he did blame a lot of agent issues on those agents who do not have the skills to navigate vendor conversations or manage client expectations.
Explaining it as skills agents need to learn, he said that "if you don't learn that, and you don't know it — you miss the listing or you get it by telling a lie and neither of those alternatives serves you".
From his perspective, agents should be managing client expectations, but doing so in a way that's not going to sabotage their ability to secure the listing and, subsequently, the sale.
Offering up a scenario where a potential vendor is looking to receive $1.5 million for a property while the real comparables would suggest a selling price of $1.3 million to $1.35 million, Mr McGrath advised looking to the comparables for data-driven decision-making, talking the client through the process, and explaining where to next.
He advises, stating: "Let me reassure you, I have no ceiling on where I think the property price will eventually end [up], but let me just talk to you about a few case studies where we've been very successful in building competitive tension that has then led to an over-achievement and over-performance on price."
Earlier in his presentation, he had highlighted that the world agents are operating within in 2021 is very different to what was expected in years gone by.
From his perspective, what the world wants now is "more human" and "radical integrity".
ABOUT THE AUTHOR
---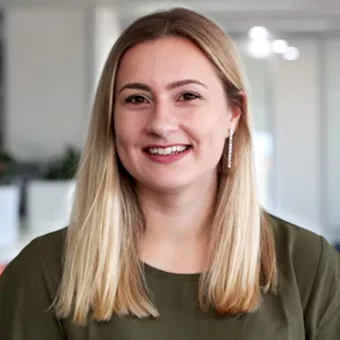 Grace is a journalist across Momentum property and investment brands. Grace joined Momentum Media in 2018, bringing with her a Bachelor of Laws and a Bachelor of Communication (Journalism) from the University of Newcastle. She's passionate about delivering easy to digest information and content relevant to her key audiences and stakeholders.