Josh Phegan has revealed what he believes to be the real estate equivalent to the oft-quoted McDonald's query: "Would you like fries with that?"
The renowned real estate coach and trainer was addressing delegates on the Gold Coast at AREC 2021 when he highlighted that by training 14-year-old employees to ask the question, "Would you like fries with that?", McDonald's managed to boost its sales by $500 million per year.
He put forward an "outstanding" yet "simple" question that agents can use to boost their ability to engage potential buyers and sellers – just like the one employed by McDonald's staff around the world.  
That question, in Mr Phegan's eyes, is: "Have you bought locally before?" – but it can be any question that helps any good agent to define and engage with their target audience.
He reflected on the fact that open homes give real estate agents an opportunity to meet potentially dozens of people.
Add in the fact that agents usually conduct any number of open for inspections each weekend – that's potentially 500 people that they get to meet each weekend, and have the potential to qualify as either buyers or sellers – or both.
Mr Phegan said the conversation that would follow such a question – like, "Have you bought locally before?" would usually go one of the two following ways:
If the answer is no, you say, 'Great! What are you looking for in the area? Because I want to try and find you a location where price and value meet.'
If the answer is yes, the follow-on question an agent can ask is: 'What are your plans with the existing when you buy the next?' 
From the trainer's perspective, the questions are extremely valuable – and are able to be employed by anyone. From his experience, "the results are outstanding".
The real estate coach acknowledged that agents are often trying so many different things to gain the attention of potential clients and gain listings.
But instead of trying to do as many things as possible, "we should narrow what we do and go deeper in what actually works".
"In what industry in the world would you have hundreds of potential customers lining up in front of you every Saturday, waiting for you to ask the question, your equivalent to, 'Would you like fries with that?'"
ABOUT THE AUTHOR
---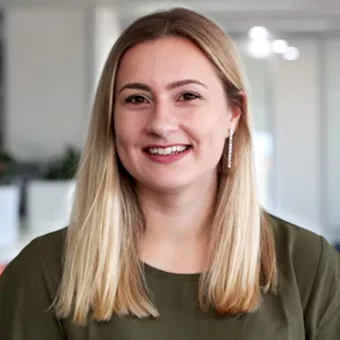 Grace is a journalist across Momentum property and investment brands. Grace joined Momentum Media in 2018, bringing with her a Bachelor of Laws and a Bachelor of Communication (Journalism) from the University of Newcastle. She's passionate about delivering easy to digest information and content relevant to her key audiences and stakeholders.