Alexandra Porter acknowledges she didn't have the greatest start within the industry. With her 1,000th sale having gone unconditional, the Brisbane-based agent has taken the time to reflect on the lessons learnt over 14 years in the industry.
At the beginning of her career, she says she was told that she would never make it as a real estate agent; Firstly because she was a female and secondly, because she was too young.
"The first agency I applied to for a sales job told me I wouldn't make it, without giving me a chance."
Ruminating on those remarks, Ms Porter said it took her a couple of years to "truly believe in my skills and what I could achieve".
"So it wasn't until 2013 that I really focused and started selling, on average, 90 properties a year."
For Coronis chief operating officer Karuna Dimelow, Ms Porter's journey to date had been "incredible to watch".
"I've had the joy of working with Alex from the very start of her career at Coronis and it's been incredible to watch what she has created in her life," she expressed.
"Her journey to date has been high - starting as an agent with no experience and growing into one of our top agents as a consistent performer."
Exclaiming that "not many agents sell 1,000 properties in their entire careers, yet alone in the timeframe Alex has", Ms Dimelow also touted Ms Porter's ability to have "seamlessly integrated her career with family life in recent years with the birth of her children".
"[She] is a shining example of how rewarding a career in real estate can be with the right team and company around you."
"I appreciate her immensely."
For Ms Porter, there's a number of lessons she's learnt along the way that she has attributed her success to, and she shares them with new agents here:
1. Back yourself
Reflecting on the rejection she received at the beginning of her career, Ms Porter urges young agents not to take no for an answer.
"Don't get me wrong, real estate is tough - a lot of people don't like agents, they don't value us, our time or who we are so there have been plenty of times I wanted to quit, but you just have to back yourself 100 per cent of the time."
According to the heavyweight, resilience and mental toughness is key here.
"Without that character trait you won't be able to talk yourself through the tough times and put everything into perspective."
2. Be disciplined
"To succeed you need discipline," Ms Porter imparted.
"To this day, I follow a daily structure and I delegate tasks that don't make money, but need to be done, to my PA."
She concedes that "you can't do this job at a high volume with high standards if you don't have a good team and a good structure."
"My role is to talk to people, build relationships and list the properties and I've placed people around me to manage all the other tasks because at the end of the day, my brand is built on customer service, and delivering a high standard of customer service is non-negotiable for me," Ms Porter shared.
3. Become a specialist
Urging young agents to become specialists, the successful agent said there are two ways you can go about it - either as a product specialist (such as luxury property) or as an area specialist.
She warned: "Don't be everything to everyone."
"It's ineffective and you'll end up running around all over the city."
"Start with one suburb, dominate the market and then expand your farm area to surrounding suburbs. I grew up in Aspley, I was familiar with the area and then later bought in the suburb so I knew it like the back of my hand and I loved living there," she shared.
Her advice? "If you're new to the industry, be strategic and look for a suburb where there is no single agent dominating it, then get in there, walk the streets, door-knock main roads, letterbox drop appraisals, talk to local business owners, build your database and become the area specialist."
4. Keep your eyes on the prize
"Most importantly, don't take your eyes off your goals," Ms Porter stated, revealing that for herself, that goal was financial freedom.
"I will never forget starting in real estate during the GFC and seeing so many people cry in their living rooms because they had no other option but to sell their family home."
Reflecting on it as "heartbreaking", Ms Porter said it was those experiences that made her realise she would do whatever it took to create financial freedom for her family.
ABOUT THE AUTHOR
---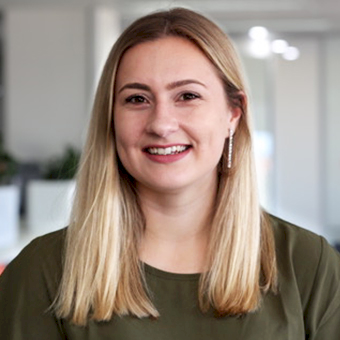 Grace is a journalist across Momentum property and investment brands. Grace joined Momentum Media in 2018, bringing with her a Bachelor of Laws and a Bachelor of Communication (Journalism) from the University of Newcastle. She's passionate about delivering easy to digest information and content relevant to her key audiences and stakeholders.