According to Carla Fetter, prospecting is key to bringing your business up a gear (or two, or three, or four).
Presenting on the Gold Coast at AREC 2022, the sixth-ranked agent in REB's Top 50 Women in Real Estate ranking for 2022, who also nabbed the seventh spot in Victoria and 30th in REB's Top 100 Agents for 2022, was sharing how she brought her business into fifth gear, when she brought up the topic of prospecting.
Conceding that prospecting can "invoke some negative physical responses from people", Ms Fetter confessed that it had previously been her response too. 
Reflecting on her own real estate journey, she recalled that "back in the day, I didn't have a prospecting plan. I just did it when I felt like it. When I had some spare time, when I was having a slow listing month, I thought I'd better get on the phone."
But, after a conversation with her mentor, Peter Vigano, who "really simplified it" for her, she began to change her tune.
"It's just 20 calls a day. That's it," she said.
Seeing it as an achievable number to commit to, Ms Fetter said the most integral part is "doing it religiously".
"It has to be every single day," she said.
From her perspective, it made a huge difference within the first six months: "My appointments face to face prior to doing this, I'd catch up with people once, twice or three times a week.
"No more. After six months of adopting this approach, my appointment numbers jumped up to seven, to 10. And I went from listing 30 properties a year, to 50, to 60, to now; over a hundred."
Again, Ms Fetter highlighted the key being "the consistency around it – it has to be every day".
But it's not just a matter of going through the motions with each caller either.
Prefacing her next comments with "this is going to sound a little bit weird", Ms Fetter divulged that before she makes each call, she envisions she is holding a shovel.
It's not with the vision of hurting anyone; rather, Ms Fetter said it gets her in the mindset of "going digging for gold".
"I'm looking for opportunities with every single call. What can I get out of this? That is my goal.
"I want to create some meaning behind those calls. I want to get in front of people," she shared.
During those calls, Ms Fetter also stressed that it's key to be likeable.
"You've got to find a way to connect with people. My calls are mostly made up of just listed and just sold," she said.

As well as offering up the sage advice of "don't be a dick head", Ms Fetter said it's important to get a message across "really well", telling agents to "spend the time when you need to, but don't spend too much time on the phone if it's not necessary".
"But as I said, you've just got to do it," she said.
ABOUT THE AUTHOR
---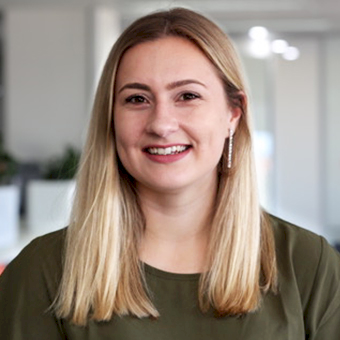 Grace is a journalist across Momentum property and investment brands. Grace joined Momentum Media in 2018, bringing with her a Bachelor of Laws and a Bachelor of Communication (Journalism) from the University of Newcastle. She's passionate about delivering easy to digest information and content relevant to her key audiences and stakeholders.