Top 10 tips for phone prospecting
Blogger: Douglas Driscoll, CEO, Starr Partners 
It is said that success leaves clues. Study any of the elite performers in our industry and you will soon discover that one common trait is a commitment to prospecting. They view prospecting as an integral part of their job, not an extension of it. It's part of their DNA.
There are a myriad of ways in which you can prospect, but in my opinion, nothing is more effective than the good old-fashioned phone call.
Here are my top 10 tips for phone prospecting:
Mojo – To operate at your optimum level, you must first determine what time of the day you have the highest levels of focus and energy. Real estate trainers will often preach about the best time of day to prospect, but everyone is different, so you need to figure out what works for you. Using an activity log to track and measure your daily activities will help identify when you are at your most productive.
Power hour – Prospecting sessions need not last longer than an hour, with the focus being on quality, not quantity. These sessions should be fixed appointments in your diary and should not be shifted under any circumstances. Nothing is more important than prospecting!
Get in the zone – To get the best out of your prospecting sessions you have to remove all distractions. Incoming emails are arguably the biggest distraction, so print off your call list and switch off your computer. If possible, find a private room or a quiet corner of the office to conduct your calls and ask your colleagues not to disturb you.
Stand up – It is a proven fact that you exert more energy and enthusiasm when standing.
Use a headset – It is a natural instinct to want to use your hands when you talk, as they are also a communication outlet. Irrespective of the fact the person you're calling can't see you, our hands still help us convey the spoken message. Just ask any Italian; they view their arms as an extension of their mouth!
Develop thick skin – Rejection comes with the territory, so get used to it. Rather than becoming demoralised, view every 'no' as a step closer to a 'yes'.
Dangle the carrot – Where possible, start the conversation with a hook. "Hello Mrs Smith, it's Doug from Starr Partners. I have some news that I think you might find interesting. Do you have a couple of minutes?" This line will arouse their curiosity and hopefully capture their attention. You could then go on to tell them about the house that has just sold around the corner etc.
Use different bait – It is very likely you will be conversing with your prospect over the course of several months (and sometimes years), so mix it up as much as possible. Monotony is likely to lead to the prospect becoming disenchanted. Taking copious notes will help avoid repetition and serve as an aide memoire. And remember, strong relationships are built on information, not promotion.
Leave the right message – Prospecting should be measured by the number of connections, not by the number of calls. When you do end up talking to an answer machine though, leaving the right message is critical. If you are cold calling, avoid leaving your company name on your message. Whether we like it or not, people aren't always that keen on talking to estate agents, so are unlikely to be in any great rush to return your call. This simple step will see your call-back rate increase dramatically.
Practice makes perfect – It doesn't matter how good you are at prospecting (or how good you think you are), you must continue to refine the process. Practice makes perfect, so role play with colleagues on a regular basis.
In my view, the most difficult part of prospecting is actually getting started - all cats love fish but hate getting their paws wet. Happy prospecting!
ABOUT THE AUTHOR
---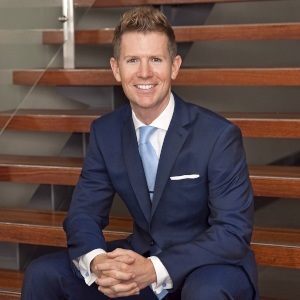 Douglas Driscoll is CEO of Starr Partners, and was named Industry Thought Leader of the Year at the Real Estate Business Awards 2016. Originally from the UK, Douglas is widely regarded as one of the industry's preeminent thought leaders, and is lauded for his dynamic and pioneering approach.