Like any sales method, there are pros and cons to selling or buying a property via auction – and issues that you should be aware of.
Property consulting
When a property is sold via private sale, vendors run the risk that buyers will turn their back on a property they are interested in, because the initial asking price is too high. This is why a spot-on asking price is crucial when selling by private sale. Auctions are popular across Australia because the process takes price out of the equation for the pre-auction period, leaving buyers to evaluate the property independent of price. The auction process then provides buyers and sellers with a good idea of what the market is prepared to pay.
Pros for selling via auction
With the property market slowing across the country, and clearance rates lower than they have been, it is natural that vendors are questioning selling through auction. While auctions are not ideal for all properties, a slow market is no reason to shun the system.
In 2010, many properties were auctioned in Melbourne and the city's median price increased by around 20 per cent. Most quality inner-city properties are still sold by public auction.
Properties that are passed in at auction should not be viewed as failures and auction clearance rates are not necessarily accurate reflections of sales success. This is because the auction process does not stop when the hammer goes down: even when a property is passed in, it will usually have generated enough interest throughout its campaign to attract offers afterwards. Again, the auction process highlights current market value and buyers and sellers can come to an agreement in a faster period of time then they do through a private sale.  
The four-week deadline of an auction campaign tends to force buyers to make a decision in a tighter time frame than a private sale situation: an auction creates an unconditional sale where there is no cooling off period applicable and no terms or special conditions can be negotiated. Sellers are also likely to sell their property faster through the auction process, as properties sold this way typically have fewer "days on market" than other private treaty methods of sale.
Cons for selling via auction
In general, auctions have more expensive advertising campaigns than private sales, with a $5,000 - $10,000 average minimum budget. If the property does not sell, the vendor still has to pay these costs.
Agents can also pressure vendors to dramatically reduce their reserve during the high-pressure environment of an auction. In cases like these, the vendor may or not be pleased with their decision in a later more rational environment.
The auction process may also not suit private people, who are uncomfortable having their home publicised across the internet and other advertising mediums, or hosting public auctions that can raise security and privacy issues.
Pros for buying via auction
Rising interest rates and increased living expenses have been fundamental in lowering the demand for property. This means fewer bidders (and less competition) at auctions. In all capital cities across Australia, auction clearance rates have reduced by an average of 10 per cent compared to 2010, which means there is now a greater opportunity to negotiate after auction below the vendor's reserve price. Vendor's prices have typically had to lower and as a result, most capital cities have seen at least a 10 per cent correction in prices this year.
This means the overpriced properties will linger and the longer the property is on the market, the more advertising expenses the seller will incur: not to mention an increased pressure to reduce their price.
Cons for buying via auction
Even in today's market, good quality properties can still create intense competition and sell at auction for high prices – especially well-located properties in blue chip inner-suburban areas. Buyers can waste money commissioning building reports and having contracts reviewed professionally and then find the property sells well above their budget anyway.
Vendor bids are unlimited in a number of states so the auctioneer can push the price towards the vendor's reserve.
Buying at auction: how to excel in the current market
The current market provides a good opportunity for savvy bidders to purchase property through the auction process. Bidding at an auction, can however be emotional and stressful. It can be a roller coaster ride where other bidders re-enter the fray or new competition emerges just as buyers think they have beaten their competition.
There are many different strategies that can give buyers an advantage at a public auction. Here are some tips for buyers:
•    Dress to impress. Wear a suit to create the perception that you have the money and budget to beat the competition.
•    Park your prestige car (if you have one: otherwise borrow one if possible) at the front of the property so that you can stand next to it and create the impression you have the funds to buy the property.
•    Position yourself towards the front of the auction near the auctioneer. This gives you a bird's eye view of your competition so that you can see who you are bidding against.
•    Ask a question at the beginning of the auction to direct attention towards you – specifically one that makes other buyers hesitate. For example, "has the Owner's Corporation raised any special levies? What about the development plans next door? Is the car park on title?" Hopefully these questions may unnerve inexperienced bidders.
•    Keep your body language and gestures positive and confident at all times. Try to make direct eye contact with competing bidders with an "ice-cool" stare.
•    Set a pre-auction limit and stick to it. There is no use getting emotional at an auction and overpaying by tens of thousands of dollars.
•    Question the agent as to how many contract requests and building reports have been commissioned. If it is likely there will be a lot of competition, wait for someone to make a low bid before placing a higher one, of $10,000 - $20,000 below your estimated reserve price. For example, if the agent is quoting "$270,000 plus" for the property and someone opens at $250,000, you should increase the bid to $300,000 to show that you mean business. This also cuts out the bargain hunters, as even lower bidders can get emotional and increase their bidding levels, which has a snowball effect of increasing everyone else's budget.
•    Ask the auctioneer "Is the property on the market? Has the reserve been met and are you selling?" Hopefully, the bidding will stall and the auctioneer and agent will go inside for a break. They may try to convince the vendor to lower their reserve price and put the property on the market for an unreserved sale. Hopefully they tell the vendor that there are bidders present who won't bid until the property is on the market.
•    Call out all your bids with full numbers: for example instead of "$1,000" call "$301,000" so other bidders hear exactly where the bidding stands. Call out all your bids confidently and assertively like you are not going to stop and will continue until you buy the property. Volley bids straight back without hesitation so it looks like you won't stop.
•    Break down your bids to slow the bidding if required. For example, if the auctioneer asks for $5,000 bids, offer $1,000 or $2,500 bids so that the momentum is slowed.
•    Use knockout bids, by doubling or tripling another bidder's amount to try and psyche them out.  You can also pretend you are out and wait until the third call, before you come in again with a knockout bid.
ABOUT THE AUTHOR
---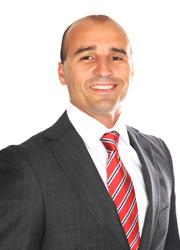 Frank founded Advantage Property Consulting in 2000 and has since built a strong reputation as an advocate for buyers, sellers, and investors. He's helped literally thousands of Melburnians find and move into their dream home, as well as helping hundreds of people find long-term security through developing successful property portfolios.
Who better to help with important property decisions than someone who's spent the better part of two decades building their own extensive property portfolio? Frank is familiar to many from his TV appearances on Hot Property, Hot Auctions, Channel Nine News and The Block. He also writes for various media publications and has won many of the industry's most coveted awards – some multiple times.