For a long time now, real estate developers have been prevented from building.
Anaemic rates of new construction have kept the supply of affordable, inner-city properties to a minimum. Different factors are given the blame for this drought of new units. Some say taxes, others finger land supply. 
The painful truth was this: Australians are not tremendously eager to buy units off the plan.
And unless developers have a sufficient number of off-the-plan sales, they cannot get the financing they need to hire construction workers, rent cranes, buy cement and start work. 
As a result, new projects languished on the drawing board.
This state of affairs also deprived agents of opportunities to earn commissions selling these new properties, and to help local families find a home in them.
Then, along came buyers from China. The rapid, decades-long growth of property prices in their home market, along with the shortage of supply, has made them great practitioners of buying off the plan.
Their willingness to buy off the plan at last made it possible for developers to start building again.
As Louis Christopher, principal of SQM Research, told me: "Developers here in Australia need those pre-sales to finance new development. The reality is that without the foreign investment, many of these developments would not proceed."
Meriton boss Harry Triguboff has admitted that fewer new projects would be built if Chinese buyers were to pull back.
Sherwood Luo, who is currently selling off-the-plan units in Sydney's tallest residential building, agrees: "The demand from overseas will stimulate local property development. All the developers, and the whole industry, benefits from the demand of overseas buyers."
In truth, Chinese buyers hugely benefit domestic homebuyers in Australia. Their off-the-plan purchases make it possible for developers to build projects that otherwise would languish on the drawing board.
And that makes more new housing available for everyone.
ABOUT THE AUTHOR
---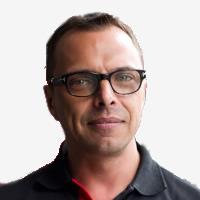 Andrew Taylor is co-founder of Juwai.com, the No. 1 website for Chinese buying Australian real estate. He is an experienced real estate media professional, with 10 years' experience managing print, online, television and radio brands in Australasia and Asia. He has held senior roles in the REA Group, including company director and Greater China country manager. He has also held roles at the Australian Broadcasting Corporation and Property Page Pty Ltd. He has graduate degrees in classical music and plays the diyin gehu (Chinese bass).