The science of vendor management has a lot in common with the stages of accepting grief. Let me explain.
In 1969, Elisabeth Kübler-Ross, a University of Chicago medical school instructor, wrote On Death and Dying, which was inspired by her work with the terminally ill. She hypothesised the 'five stages of grief', now known as the Kübler-Ross model and widely accepted by the general public and medical community. Her work revolutionised how the medical field cared for the terminally ill.
Her hypothesis suggests that when a person is faced with the reality of impending death or other extreme, awful fates, he or she will experience a series of emotional stages: denial, anger, bargaining, depression and acceptance.
Here is how I see the five stages of acceptance in our business, based on the hypothesis that when something bad happens, people go through a process before accepting the new reality.
Stage 1: Denial
This is the seller in denial about the current market he or she is selling in and wanting to achieve an inconceivable sale price.
Right, you've put the seller in the picture about current market conditions, provided all the evidence you possibly can, but they are still in denial and even appear to be directing their anger at you.
Stage 2: Anger
Here is something new to consider! When the seller is yelling at you, it is actually a positive sign that they are going through to the next phase, which is…
Stage 3: Bargaining
This is where the seller says: "Yes, we do appreciate it is worth $500,000, but can't we just leave it at $650,000 for a couple of weeks…?"
Now is the time for you to roll out the hard evidence.
Stage 4: Depression
Oh dear! Here is where you are likely to hear your seller say something like: "We are not going to give it away. But if we go along with what you are saying, we might as well just give it away!"
In the Kübler-Ross model, this is an important time for grief processing; and feeling emotions like sorrow, regret, fear and uncertainty indicates a person has begun to accept their situation.
At this stage, the seller begins to understand the certainty of the market and what needs to happen to move toward a successful sale outcome as they move closer to…
Stage 5: Acceptance
At our regular sales meetings, we plot where each one of our sellers is sitting in this active process of moving through the stages.
This is the science of vendor management.
To understand and interpret it means accepting the processing that takes place in a vendor's head.
It tells good real estate agents they must be great at having those very crucial conversations even though they may feel uncomfortable doing so, because they know it is putting the seller on the path to a happier result.
Good real estate agents apply the 'doctor mentality'. What makes a good doctor? A good doctor is one who asks you the best questions, and gives the best ideas to move things forward and make you feel better.
We adopt that mentality as agents. We consult, ask loads of good questions and extract all the information possible so that we can devise a series of events to lead the seller to the healthiest possible outcome.
Consultation is something I ensure my salespeople take very seriously, and has led me to turn the traditional listing-marketing process on its head. My three-point approach is:
Make the first meeting with a vendor in the real estate office, because that puts the focus firmly on the vendor-agent relationship rather than the 'bricks and mortar'
Consult, like a doctor, rather than deliver the traditional mode of listing presentation
First list the property and then go and visit the property to establish the pricing strategy, marketing strategy and all the other matters around the sale
It's all about the alliance between the agent and the vendor.
I love real estate, and it is a wonderful career that gives me a wonderful lifestyle with wonderful choices; but even now with all the years and the experience I have, it can still give me a good kick now and again.
And a career in real estate is not about how good you are, but how quickly you can get up again after you are kicked.
ABOUT THE AUTHOR
---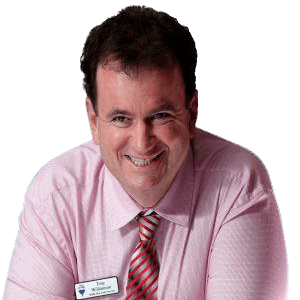 Tony Williamson joined the real estate industry in his early twenties and rapidly became a top agent in his office. He took a break from sales to pursue his love of finance, before returning to real estate in 1999 when he opened a Century 21 office. After changing to RE/MAX in 2004, Tony sold his two franchises in 2006 to focus on training, consulting and motivational speaking. Four year later, he re-entered the Cairns real estate market with RE/MAX.