Real estate agencies often underestimate the value of their client and prospect data.
Understanding your target audience in order to communicate more effectively is just one aspect of using real estate data as a tool to improve the customer experience.
It's important to think long-term about what this data represents and the value it can ultimately generate. This means using the data to deliver tailored marketing content and adjusting your messaging as you follow someone through the real estate life cycle.
The life cycle
Most of us begin our real estate journey as tenants in a rental property. Tenants can then go on to become first home buyers. After some time, they might sell their first home to upgrade when they need more space due to having kids or because of other lifestyle needs or desires.
They may even go on to become investors with a portfolio of multiple properties. After some more time when they get older, they may downsize and sell off their property or properties.
Plotting the journey
Does your agency know when people in your database have changed their profile? In other words, do you know when they have, for example, moved on from being a tenant to a first home buyer?
To know this, you need to capture and create a database of all your leads and segment them into categories. This includes details from people who enquire about properties and visit open home inspections.
Maximising software
Manually capturing, segmenting and managing your real estate data takes a lot of work.
Software solutions can automatically capture every piece of data, ensuring you don't lose any leads while keeping sensitive information secure.

However, agencies should be wary when selecting software developed by providers that may share your data to third parties, or worse, try to sell your own data back to you.
Data strategy
It's important to have a data strategy in place so you can take a holistic view about how it affects your client relationships and your overall digital marketing strategy.
If your clients start receiving unsolicited mail from removalists and cleaners, it may reflect poorly on your agency.
Remember that real estate is a relationship-based business. Your agency should safeguard data to protect future business growth and maintain long-term client relationships.
Take care that your data is not shared. Make sure also that it is stored in the same country where it was captured to ensure that it is subject to the same stringent privacy laws. A good-quality independent real estate software provider will ensure that your data is uploaded immediately onto your CRM.
ABOUT THE AUTHOR
---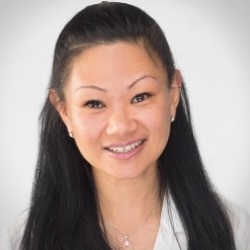 Cecille is a Certified Practicing Accountant and is passionate about creating great customer experiences.
She has over 20 year's experience across many sectors; including banking, manufacturing and real estate, and in many countries; including the UK and the Netherlands.
Cecille is never more comfortable than when she's leading a team or overseeing projects – unless there's a glass of champagne involved!