Growing up, I remember spending many afternoons after school listening to the radio.
Often I'd wait anxiously, my finger hovering over the record button so that I could hit it at exactly the right moment and make the perfect mixed tape to play in my walkman.
Walkmans were all the rage then. My walkman was in a special leather case that looked like a handbag. It was fantastic!
Perhaps you're feeling a little nostalgic thinking about your own walkman. With iPods and smartphones, walkmans are now very much a relic of days gone by.
Chances are, you probably get the same 'flashback' feeling when you hear the phone ring or you decide to dial a phone number – especially if you're using a landline phone.
But are phone calls as old-fashioned as a walkman? Should they be?
The 21st century
It's safe to say that phone calls are rarer today than they were during the age of the walkman.
These days, many teenagers have little idea about how to communicate vocally on the phone. As adults, many of us screen our calls or ignore them, even though our phones are glued to our hands (you couldn't possibly miss the opportunity to upload a photo of lunch, right?).
But is this attitude to phone calls the right attitude to have when it comes to customer service?
Phone calls and property management
In the property management industry, we all know that the rule of thumb is simple: if it isn't in writing, it doesn't exist.
However, have we taken this attitude to the next level – a level too far – by combining it with our culture of fewer phone calls?
As I look around at current practice, I worry that we're now part of an industry that is providing the 'McDonalds service'. Almost everything is automated and instant.
Perhaps you're thinking 'surely this is a good thing'?
Well I'm not suggesting that automation is bad. But what I am suggesting is that it should be used in moderation. Because not only does email, text, Facebook, etc. take away the personal touch from our communications, it's also the perfect way to portray the wrong message.
For example, have you ever compared a landlord's response to a request for maintenance via email versus via a phone call?
I can guarantee to you that your landlord will respond more positively when you phone them, ask how they're going, see what's new in their life, explain what the maintenance issue is and how it's affecting the tenant, and then ask for their approval to deal with it.
Obviously, you must still follow up this phone call with an email to the landlord confirming what you discussed. However, the phone call will not only get the quick response you need, it will also get a more positive response.
Easy phone tips for better calls
Many people find it difficult and awkward to make phone calls. If that's you, don't be ashamed – it's a common issue. So don't be afraid to ask someone for some tips on making and managing phone calls successfully.
Here are mine:
the classic smile when you talk – it actually works
watch your posture – don't lean back on your chair, or slouch over your desk; you can even try making calls standing up
never eat, drink or chew gum while talking on the phone
avoid saying "um", "errrrr", or taking awkward pauses – simply speak slowly to give yourself time to think
have fun – remember, being serious and professional are two different things, and only the second one is required
before the call, write a list of dot points for what you need to discuss – this helps you avoid getting distracted or forgetting what to say
don't type while speaking as the person will hear it – write notes on a notepad and transfer them to the computer once the call is finished
The phone challenge
It's said that it takes 30 days to form a new habit, so I challenge you to try picking up the phone for the next 30 days.
Don't only start making more phone calls for work, phone your friends too. Have a conversation with them and enjoy it (that is if they're not guilty of screening your call!).
Go on – give it a go. And please share your results with me. I look forward to hearing about your experiences!
ABOUT THE AUTHOR
---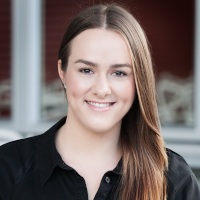 Jess Mazzocato began working in property management in 2008. At just 20 years old Jess was the senior property manager and department manager for a large franchise company.
In March 2014 Jess started a property management specialist company and grew her business from zero to 403 properties before merging her business with an industry leader to create Edge Property Agents in February 2016.
Jess has a strong belief in customer service, education and communication. She works hard to make the property management sector be seen as a professional force in its own right, eliminating the outdated view that PM is an add-on to a real estate sales office.
Make sure you never miss an episode by subscribing to us now on iTunes
And dont't forget to leave REB a review!

Listen to other installment of the Real Estate Business Podcast